Whole Foods recently began advertising and selling cold pressed juices. A cold pressed juice is made by running fresh fruits and vegetables through  a masticating juicer like an Omega juicer or through  Norwalk juicer. (The juice is considered cold pressed because slow juicers like an Omega juicer do not heat the juices up, where as a centrifugal juicer like a Breville juicer is said to slightly heat the juices.) When I saw that Whole Foods was selling cold pressed juices, I was excited. The more juice, the merrier.
Upon closer inspection, I noticed something funny about Whole Foods' supposedly cold pressed juices. Excitement turned to disappointment.
When you drink and make as much juice as I do, you know out what a real cold press juice looks like. When I grabbed a beet juice, it didn't look like the deep blood red that most beet juice looks like. As any juicer knows, even a little bit of beet juice will make your juice extremely rich in color. Beetroot juice has such an intense color that it's often used as a natural food dye.
On the right hand side of that picture is my Blood of Life juice. The juice on the left is a Whole Foods cold pressed juice called the "Cold Pressed Cleanse Juice." Notice the difference?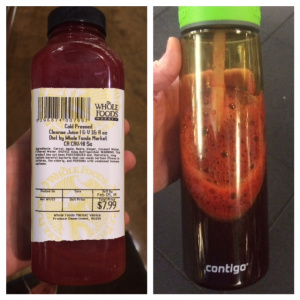 The one on the left looks runny and watery, doesn't it? It doesn't look like the real, fresh, raw cold pressed juice I put into my water bottle and brought to the gym.
I looked closely and the label, and here's what I saw:
(Ingredients: Carrot, Apple, Beets, Ginger, Coconut Water, Filtered Water.)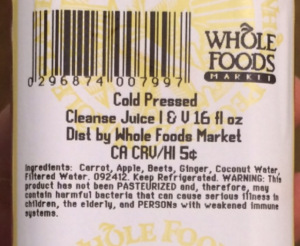 Say what?! Yes, that's right. Whole Foods is not selling 100% cold pressed juices. Whole Foods is adding water to its cold pressed juices!
Here is another juice from the same Whole Foods. It's called the "Cold Pressed OG Cleanse Juice," and it's also watered down.
(Ingredients: Cucumber, Apple, Kale, Spinach, Romaine, Coconut Water, Lemon/Lime, Filtered Water.)
There's that phrase again, "filtered water."
Why is Whole Foods watering down its cold pressed juices? Are they trying to mislead consumers?
After all, we juicers understand "cold pressed juice" to mean that it's 100% juice made from fruits and vegetables. When we think of cold pressed juices, we do not think of watered down juices.
Why doesn't Whole Foods make it obvious to consumers that it is adding water to its cold pressed juices rather than burying "filtered water" in the small print? Whole Foods need to make it clear to consumers that their cold pressed juices are not 100% juice, but instead are watered down versions of real juice.