Once you've been living the juicing lifestyle for a while, ordinary sweets are "too sweet." I used to eat a lot of pastries, cake, and ice cream. My body now rejects those sorts of foods.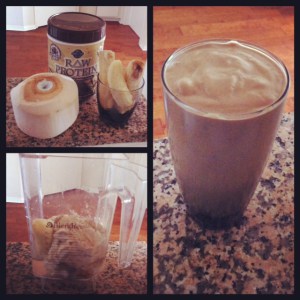 When I want something sweet-but-not-too-sweet, I combine frozen bananas and young Thai coconuts with either chocolate or vanilla flavored protein powder. For this batch I used Garden of Life Raw Protein Powder (Chocolate). You can use whatever protein powder you prefer.
Chocolate Vegan Protein Ice Cream
2 scoops Garden of Life raw protein powder (chocolate or vanilla)
2 frozen ripe bananas
the water and jelly from one young Thai coconut
Combine all items in a high-speed blender. Blend until the items are as smooth as a milkshake.
Tips
With a BlendTech or Vitamix, you can throw all the items together at once.
If you're using an Oster blender like this one, you should slice the bananas up before freezing them. Throw in the coconut jelly, water, and protein. Add about 1/4 of a frozen banana at a time. This will help the bananas blend more smoothly.
If you do not have access to young Thai coconuts, add 12-16 ounces almond milk in place of the coconut water and jelly.
How to Open a Young Thai Coconut with a Knife
To open a young Thai coconut, I use a method similar to this woman's: