Breville juicers are top of the line products. The Breville BJE200XL Compact Juice Fountain is a fantastic juicer. Like all juicers, it has its own quirks.
How Breville Juicers Work
Breville juicers are centrifugal juicers. Like all juicers, a Breville separates the juice from the pulp. A centrifugal juicer works by spinning a blade at several thousands of RPMs.
The juice goes out one side and the pulp goes out the other. You drink the juice and then throw away the pulp, or add the pulp to your compost bin, or even make veggie burgers.
The Breville Juice Fountain Plus and Breville Juice Fountain Elite have a separate, detachable pulp bin. You can line this pulp bin with the same produce bag your vegetables were in. Then you throw away with bag containing the pulp once you're done juicing.
With the Breville BJE200XL the pulp extractor is affixed below to the juicing blade. This means you can't line the pulp bin with a bag. Clean-up isn't daunting but it's a little messier – unless you know this trick.
I recently found a quick solution to the problem. Follow these instructions for simple clean-up when using your Breville Compact Juice Fountain.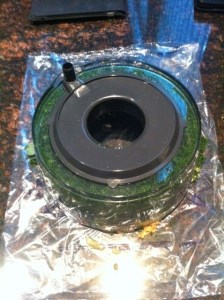 Throw a produce bag on the counter. Make sure it's wide enough to prevent any pulp from landing on your table.
Remove the blade from the housing.
Remove the pulp bin.
Gently plop the pulp container onto the produce bag. (Don't slam the pulp bin on the table or you might crack it.)
If you do it properly, you'll have a ring of pulp that can be easily thrown away.
See how easy it is to clean a Breville juicer?
The Breville is a great juicer. If you're still deciding what juicer to buy, find out which juicer I think is the best juicer.
Don't miss: Breville Juicer Reviews.