Vitamix or BlendTech…BlendTec or Vitamix? Once you become serious about juicing and making green smoothies, you're bound to ask that question. There are dozens of pages of Internet debates about that very subject. Which one is right for you?
(Pictured below: Making smoothies with a Vitamix 5200.)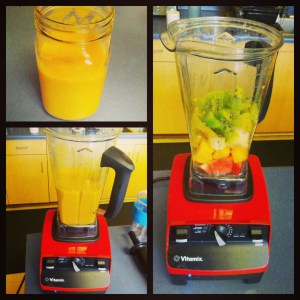 As someone who lives a frugal lifestyle, the idea of shelling out a lot of money for a blender was not appealing. I had an Oster blender (this one) for years and figured a high end blender was all hype. After my friend made me a smoothie in his Blendtec, I had to have one.
(Making superfood spinach smoothies with a BlendTec Wild Side Blender.)
I've had my BlendTec for over four years. After over 1,654 (and counting) smoothies, I enjoy it more than ever.
Although I make a smoothie nearly every day with my BlendTec, I equally enjoy smoothies made with friends' Vitamixes. To me, "Vitamix or BlendTec" is a question with two right answers.
Most blenders just mix-and-chop stuff together rather than transform the ingredients into a smooth milkshake. An Oster works just fine if all you do is toss some protein powder and almond milk along with a banana into the blender.
Look at the pictures at the top of the post. Either the Vitamix or BlendTec will turn fruits and vegetables into a superfood smoothie with a milkshake like consistency. Add in some almond milk and you'll never need to eat sweets again.
If you want to make serious green smoothies, you'll see the limitations of a lower end blender immediately. Most blenders simply can't process much frozen fruit and greens. This is what a BlendTec does to frozen fruits and vegetables:
(Making superfood green smoothies with a BlendTec blender.)
On the lefthand side is several cups of frozen berries, frozen spinach, and frozen bananas. On the right is a delicious shake. (I added almond milk to get the desired consistency. You can use more or less liquid to make an ice cream like smoothie or to make a more juicy/liquid smoothie.)
Who needs a fatty, unhealthy milkshake from a restaurant when you can blend frozen bananas, berries, and spinach together? Because the BlendTec or Vitamix truly combines the fruits and vegetables, there aren't any spinach bits to get stuck in between your teeth. You can even make chocolate banana ice cream with a Vitamix or BlendTec:
You can add more or less water or almond milk to make ice cream or a smoothie. On days when my sweet tooth is craving junk, I make "ice cream" using a couple of frozen bananas, 8 ounces of almond milk, some frozen berries and a little vanilla ice cream protein powder.
Vitamix or Blendtech: Is a Vitamix Better than a BlendTec?
Three things fire people up – politics, religion, and whether a Vitamix is better than a BlendTec. I won't even argue. If a guy likes his Vitamix, he is right. If a girl likes her BlendTec, she is right.
Both are superior devices that will change you life. Here are some factors to consider.
How long is the warranty for a Vitamix and BlendTec? If you're shelling out the big bucks for a quality blender, the blender had better last a long time. Both the Vitamix and BlendTec have 7-year warranties. Most long-term users of both blenders will tell you they've had the blenders for much longer. With a quality blender, "You get what you pay for."
How many horsepower does the VItamix and BlendTec have? The BlendTec has a 3 horsepower motor. The Vitamix 1782 TurboBlend, 2 Speed and Vitamix CIA Professional Series each have two horsepower motors.
Even though the BlendTec has a more powerful motor, and even though as a BlendTec owner you may think I'm biased, let me tell you a secret: Both have more than enough horsepower for your juicing, blending, and smoothie needs.
Is the Vitamix easier to use than the BlendTec? Both blenders are easy to use. The BlencTec has pre-set buttons that are designed for your specific need. For example, the BlendTec has a button labelled smoothie that works great for smoothies. When you push the button, the BlendTec runs at just the right speed (the speed adjusts while you blend) for 45 second.
Both the Vitamix and BlendTec have "pulse" buttons.
Which blender is bigger? Since the Vitamix and BlendTec are evenly matched, my decision was ultimately based on my lifestyle. I live in an apartment. The BlendTec is shorter and thus fit under my kitchen cabinets.
In my view the BlendTec and Vitamix are equally great blenders. Neither will disappoint you.
Where is the Best Place to Buy a Vitamix or BlendTec?
Amazon is the best place to buy a blender. Amazon offers free shipping and in many states doesn't charge you sales tax. You can buy a Vitamix or BlendTec by clicking on any of the links below:
Blendtec TB-621-20 Total-Blender 
BlendTec WildSide 
Vitamix 1782 TurboBlend, 2 Speed

 

Vita-Mix 1300 TurboBlend 4500