There are a never ending number of juicers to choose from. From cold press juicers, to masticating juicers, to centrifugal juicers, it can be hard to tell the difference. That's why we're going to dive deep into the pulp of the matter and sort out the major differences between fast juicers and slow juicers.
Why You Need Your Own Juicer
When it comes to satisfying your daily dose of fruit and vegetables, it can be hard to fit everything into your day. Not everyone has the time to make giant salads or smoothies, much less the stomach to eat all of that!
That's why juicers are so useful. With the simple flip of a switch, you can turn that fruit and vegetable combination into a high quality juice that tastes delicious.
Juicing is a magical process. Once you incorporate a daily juice into your life, you're sure to notice a myriad of health benefits, such as clearer skin, more energy, and a healthier digestive tract, just to name a few!
Aside from feeling great and looking great, you're also going to save a pretty penny. Buying premade juices or stopping by the juice bar every day is sure to add up. Not to mention, you really have no say in what goes into your juice when someone else is making it.
Now, just because we've established why you should buy your own juicer, that doesn't yet solve the problem of which juicer you should buy. There are hundreds of juicer models out there, each with their own pros and cons.
The two main types of juicers are fast juicers and slow juicers. Fast juicers, also known as centrifugal juicers, work by quickly shredding the fruit and vegetables. On the other hand, slow juicers, such as cold press juicers or masticating juicers, work by slowly pressing the fruit and vegetables.
In addition to the speed at which each juicer operates, there are other factors to consider such as maximum nutrient content, juice yield, noise, ease to clean, and cost.
The Difference Between Juicers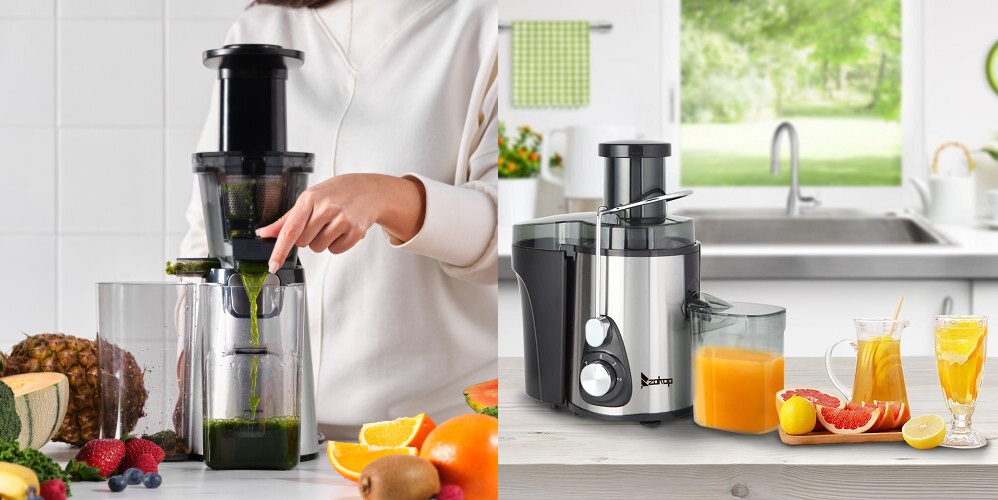 As we mentioned above, there are numerous factors to compare when it comes to selecting the best juicer. Here is a quick breakdown of the main types of juicers you can expect to see when shopping online:
Fast Juicer AKA Centrifugal Juicer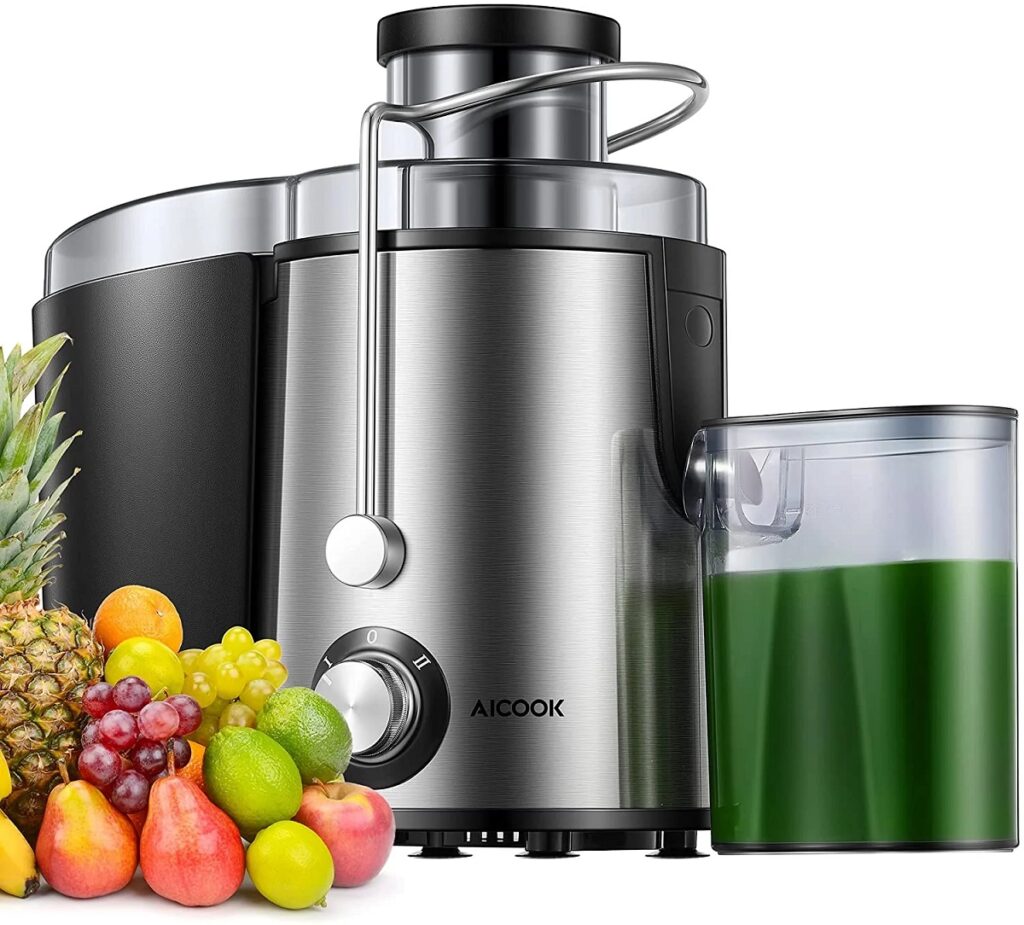 Centrifugal juicers work by quickly shredding fruit and vegetables and excreting the juice. This process generates a considerable amount of energy, though it does tend to be more affordable and easier to clean.
Slow Juicer AKA Masticating Juicer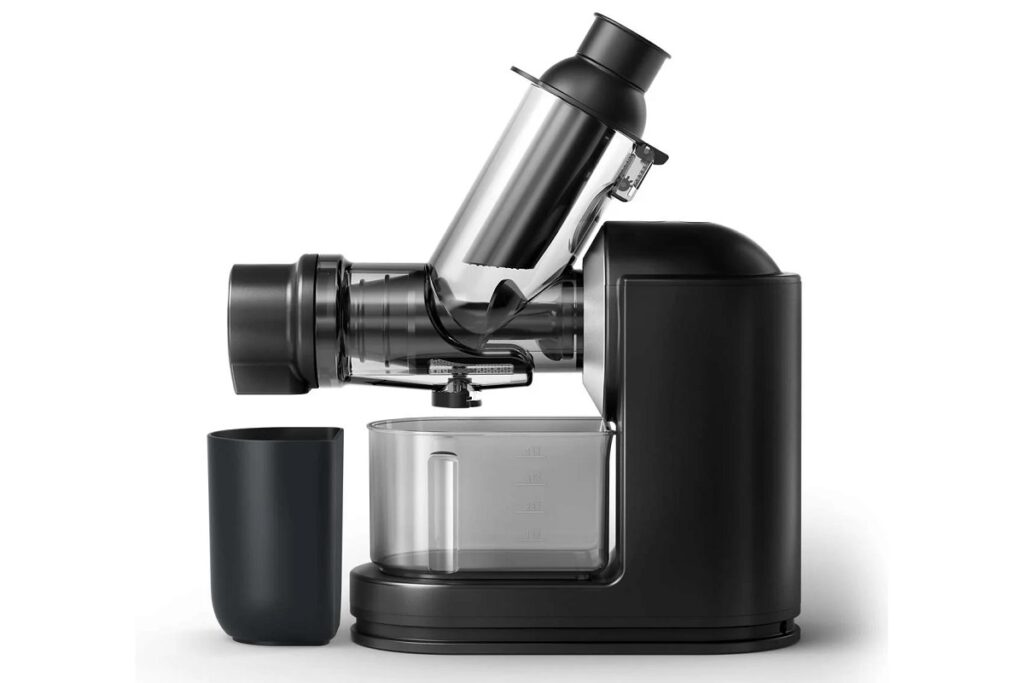 Masticating juicers work by slowly pressing down on the fruit and vegetables without creating much heat. Slow juicers offer more juice yield and offer higher nutrient content, though they be more expensive and harder to clean.
Juice Press
Also known as a pneumatic juice press, this is usually only used in commercial facilities. This is actually the only type of juicer that actually contains a press. The resulting product is higher quality juice, though it is by far the most expensive option.
Twin-Gear Juicer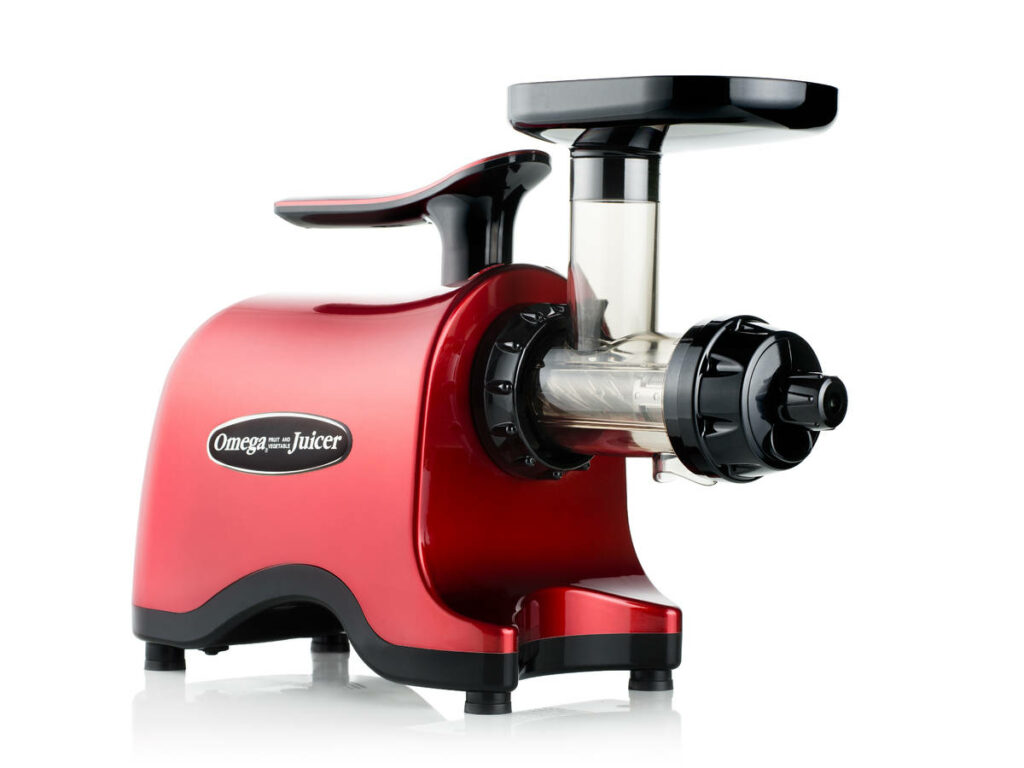 This juicer uses two gears that push and pull the fruit and vegetables, chewing the produce up and creating fiber which then gets pressed to release the juice. This option creates less energy than a centrifugal juicer, though it can be expensive and hard to clean.
Fast Juicer Advantages
Fast juicers, also known as centrifugal juicers, work by shredding the fruit fibers at a high speed. The centrifugal force allows your fast juicer to work… well… fast!
In addition to speed, another pro to this fast juicer is the relatively simple number of moving parts. This, plus the fast spinning mesh blade, makes for easy cleaning.
Since fast juicers are the most prevalent type of juicer on the market, they can be quite affordable. This makes them a great choice for people on a budget or who are just breaking out into the juicing world.
Fast Juicer Disadvantages
Due to the speed with which fast juicers operate, they can generate a fair share of noise and heat from the fast rotating centrifugal mesh blade. If you live in an apartment, you might want to be careful about making an early morning juice with a centrifugal juicer.
As for the heat, this can, unfortunately, degrade some of the nutrient content in the juice. Heat destroys delicate vitamins found in many fruits such as vitamin C.
Lastly, fast juicers are not the best when it comes to juicing leafy greens or wheat grass, as they process leafy greens too quickly to extract much juice.
Slow Juicer Advantages
Masticating juicers, also known as cold press juicers or slow juicers, work by slowly pressing down on the fruit. This process does not use much energy, as it is done slowly and with pressure, as opposed to energy.
This can be positive when you consider slow juicers offer more nutrients since those delicate vitamins aren't being destroyed by the heating process. If getting the maximum nutrients possible is important, you may want to consider getting a slow juicer.
Another pro to using a slow juicer is that you get more juice for the amount of fruit and veggies you put into it – not to mention it is easier to process leafy greens with a slow juicer. This can be a big money saver down the road.
Slow Juicer Disadvantages
As you can probably guess, the slow juicer juicing process goes slowly. If you don't mind a slow operation, then this shouldn't be an issue. However, if you're on the go every day then you may find a slow juicer tedious.
Now, just because slow juicers extract more nutrients than fast juicers, doesn't necessarily mean you get a better juice. Juice from slow juicers contains a lot of solids and separates quickly. This means you should drink your juice shortly after juicing.
Lastly, slow juicers can be more pricey than fast juicers and can take longer to clean, as they have more intricate moving parts.
Alternatives
Now that we've covered what a slow jucier does versus a fast juicer, we should probably discuss some alternatives if you're just not convinced.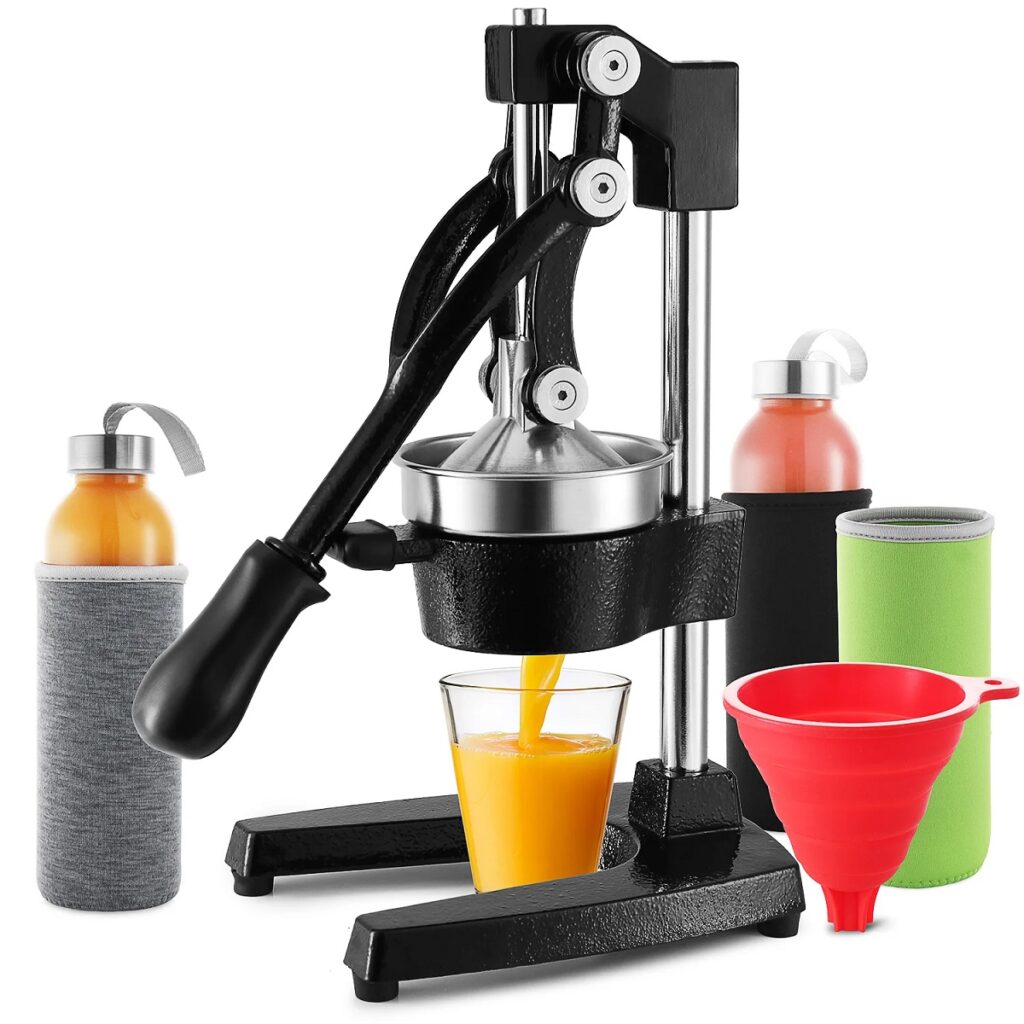 Juicing Without a Juicer
As great as juicers are, you may not necessarily need one to get the job done. You can make many types of juices with just a blender, a fine mesh strainer, and a bowl!
To do this, simply blend the heck out of your fruits and veggies, then run the blended mixture through your strainer. This process may take a bit longer, as you might need to discard the pulp several times to get all the juice out – but it sure is easy to clean!
Quick tip, don't use this method for really fibrous juices such as carrot juice or beet juice. The more fibrous the juice is, the harder it will be to separate it out with a mesh strainer. Stick to lighter juices such as celery juice, apple juice, or berry juices.
Citrus Press
This one is a bit specific, but if you find yourself craving a good glass of fresh squeezed orange juice, then consider investing in some sort of citrus press.
This way, you can easily juice as much citrus as you want. Most citrus presses are cheap and take up limited countertop space. They also get the maximum nutrients available, as no energy is involved.
FAQs
Is a slow juicer better than a fast juicer?
Not necessarily. Slow juicers extract more juice and more nutrients, though the can be expensive and the juice separates quickly after being made. These reasons are why it may be better to get a fast juicer.
Do high speed juicers destroy enzymes?
High speed juicers can destroy some delicate enzymes, as heat is generated during the juicing process. That being said, you still get a ton of benefit from juicing regardless.
Which type of juicer is best for home use?
It depends on noise, cost, and countertop space. Slow juicers are quiet, though they cost more and can take up more space. Fast juicers are more affordable and can be made in many sizes, though they can be loud.
Making the Best Choice for You
Whether you select a slow juicer or a fast juicer, the most important thing is that you are taking control over your own health. Any of the options listed above will offer you some serious health benefits, not to mention you'll save money in the long run!
There's no such thing as the perfect juicer, so whichever option means that you will get more nutrients into your body is going to be the right choice. If cost is a factor, consider the fast juicer or the blender trick. If you're cravy a big leafy greens juice, then a slow juicer is the way to go.
At the end of the day, all that matters is that you keep on juicing!