Many of us got into juicing after watching Fat, Sick, and Nearly Dead. After watching the excellent film, we all eagerly searched for the Mean Green Juice recipe.
(New to juicing? Here's the best juicer and here's the best juicer on a budget.)
Fat, Sick, and Nearly dead starred Joe Cross, an obese man suffering from a debilitating autoimmune condition. After suffering for years and realizing that his lifestyle was going to kill him,  Cross decided to make a radical change in his life. He had failed at every diet he had tried. Then he started juicing.
Joe Cross's favorite juice was the Mean Green Juice. At a recent retreat (Camp Reboot), Joe Cross handed out a recipe sheet explaining how to make a Mean Green Juice.
(Click on the image to print it out. If you're using a smartphone, download the Mean Green Juice recipe.)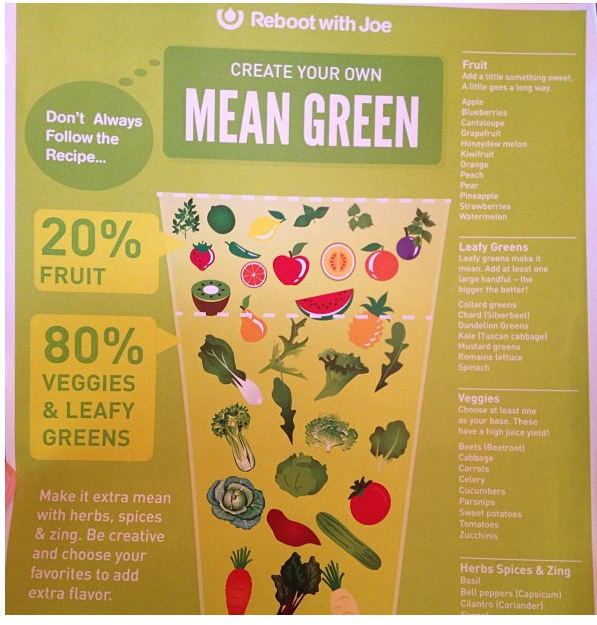 Make a Mean Green Juice by Following this Mean Green Juice Recipe
Joe Cross says that your Mean Green Juice should contain:
20% fruit
80% vegetables and leafy greens
(optimal) spices
For fruits, Cross recommends that you use something to sweeten your green juice. He suggests you use:
1-2 apples, grapefruits, kiwifruits, oranges, peaches, pears; or
1-2 cups of blueberries, cantaloupe, honeydew melon, pineapple, strawberries, watermelon.
He also suggests that you use a hand full of leafy greens such as:
collard greens, chard, dandelion greens, kale, mustard greens, romaine lettuce, and spinach.
(What is the best juicer for kale and leafy greens?)
The bulk of your Mean Green Juice should consist of vegetables like:
beets, cabbage, carrots, celery, cucumber, parsnips, sweet potatoes, tomatoes, zucchinis.
You may also add spices:
basil, bell peppers, cilantro, ginger.
Joe Cross from Fat, Sick, and Nearly Dead Makes a Mean Green Juice
Joe Cross makes a Mean Green Juice with:
4 stalks of celery
1 green apple
1 lemon
1 large nub of ginger
1 hand full of spinach
1 hand full of kale
Joe Cross is using a Breville Juice Fountain Elite. Read our Breville Juicer Reviews.
As you can see, there is no right or wrong way to make a Mean Green Juice. Your Mean Green Juice recipe should contain 80% vegetables and leafy greens and 20% fruit. Use fruits and vegetables that taste best to you.
Remember, it's far more important to, "Just juice," than it is to sweat details. You do not need to follow the Mean Green Juice recipe to every exact detail. For example, if you use 30% fruit and 70% vegetables, you are still well on your way to a healthier, slimmer, and fitter life.