Since I began juicing in earnest back in March, I haven't had much of a sweet tooth. My sweet tooth was famous among friends. Friends would watch in amusement while I devoured multiple pints of Ben & Jerry's.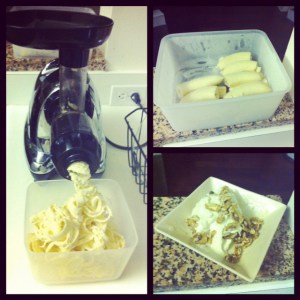 When you juice, your tastes and cravings really do change. I can't explain why but the change is undeniable.
One thing interesting about these changing tastes is that fruits began tasting like desert. I would rather eat 5 bananas or handful of figs than a pint of ice cream.
With my Omega Juicer (which is actually called an Omega food system), I can have the best of all worlds. Check out this amazing "ice cream."
Here's how to make it.
Go to Costco. You can buy bunches of 8-10 bananas for $1.69. Buy a bunch, as you will want more.
Wait for the bananas to ripen. A ripe banana is speckled, like the ones in the picture below.
Peel the bananas and put them into Zip-Lock bags or a storage container.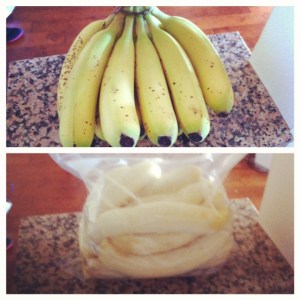 Freeze the bananas for 8-16 hours.
Run the bananas through your Omega juicer. I use 3-5 for a batch.
You can also add walnuts, almonds, peanuts, or whatever.
Enjoy!