We often making juicing more complicated than it should be by creating detailed, multi-fruit-and-vegetable juice recipes. My favorite carrot juice recipe includes the following:
Just Carrot Juice
carrots
more carrots
still more carrots.
Carrots are one of the least expensive vegetables to juice. My local Costco sells organic carrots in 10 pound bags for $5.99. To make an 8-ounce glass of carrot juice, you need about 1.25 pounds of carrots. A 5-pound bag of carrots will yield approximately a quart (32 ounces for our European readers) of juice.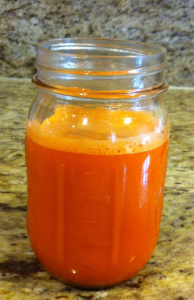 Carrot juice is extremely nutrient dense. The Stanford Cancer Center notes that 1 cup (8 ounces) of carrot juice provides most of the same nutrients found in 5 cups of chopped carrots. When people ask you why you juice, put 5 cups of carrots in front of them and tell them to start chowing down. Meanwhile, you'll finish your glass of juice in a few seconds.
Carrot juice has numerous health benefits. The World's Healthiest Food site notes:
[People who ate] carrots (with 25 grams being less than one-quarter of a cup) had a significantly lower risk of [cardiovascular disease]. And the groups of participants who ate 50- or 75-grams more had an even more greatly reduced risk of CVD! We're not sure how any study could better demonstrate how easy it can be to lower disease risk by making a food like carrot part of the everyday diet in such achievable amounts.
Carrot juice makes you better looking. Carrot juice improves skin texture and makes your skin glow.
Here are a few carrot juicing tips:
Don't juice the green carrot tops.
If you want sweeter carrot juice, peel the carrots before juicing.
If you're using an Omega juicer, chop the carrots into thirds or fourths to make juicing them easier.
If straight carrot juice is too earthy for you, add 1/2 an apple to every 4 large carrots.
The Omega juicer makes a pulpy carrot juice. Use the juicing screen or use a metal strainer if you don't like pulp in your juice.
A Breville juicer makes a smoother glass of carrot juice, but it doesn't taste as rich and earthy as the juice from an Omega.
(I personally enjoy a pulp, rich glass of carrot juice without anything else added. Your tastes may vary.)
Your body absorbs the carotenoids in carrot juice much better if you add some fat. I generally drink some flaxseed oil with my carrot juice. You can always eat some almonds, walnuts, or other seed. Or just drink a glass of carrot juice with your regular meal.
If you want to get more creative, check out carrot juice recipes.
Don't miss: How many servings of vegetables are in juice?