Mark Munoz is a charismatic former college wrestling champion who later found success as a professional fighter for the Ultimate Fighting Championship (UFC). In an interview with Mike Cernovich, Munoz shared his philosophy on health, nutrition, and mindset. Munoz even shared his favorite juice recipe.
Mike Cernovich (MC): Mark, you're known for remaining healthy year round. What is your best nutrition and recovery advice?
Mark Munoz (MM): Nutrition. I like to eat anything made from the earthy – nothing packaged, nothing processed. Those foods are very hard to digest. The organic foods you can eat, the better. I eat a lot of organic fruit and vegetables, meats and nuts.
MC: What about green juicing?
MM: Green juicing all the time.
"If you juice, that's even better."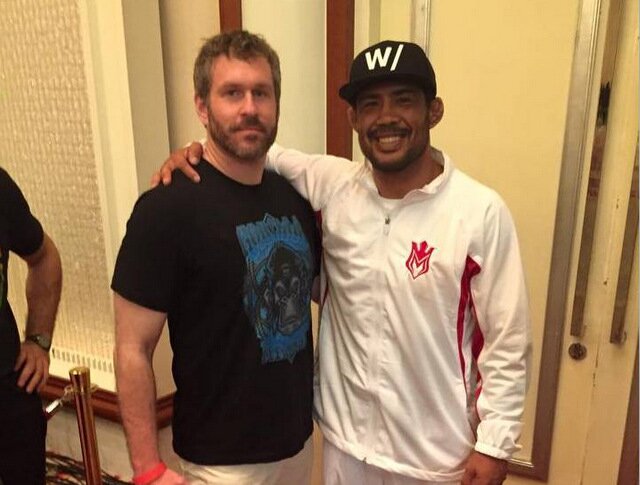 MC: What's your favorite juice recipe?
MM: Spinach, kale, apples, zucchini, radishes, coconut water, and vanilla protein powder. It's a vanilla vegetable shake – sweet but healthy.
MC: Do you think juicing helps with you recovery?
MM: 100%. Juicing gives you all of the nutrients your body needs to recovery.
Mark Munoz Juice Recipe
Spinach (1-2 hand fulls)
kale (6 stems and leaves)
apples (2)
zucchini (1, peeled or whole, either way is good)
radishes (1/2 cup)
coconut water (8 ounces)
vanilla protein powder (1-2 scoops)
Like a lot of people who juice, Munoz doesn't list how much of each vegetable and fruit he uses. Most of us just throw a bunch of stuff that we have into the juicer. However, this recipe will give you an immune system boost while also aiding in and speeding recovery.