UFC Champion Jon Jones is an admitted juicer. Yes, he confesses to throwing leafy vegetables, beets, and other apples into a machine to create green juice.
In fact, Jones credits much of his athletic success to juicing. Rather than believing the myths about juicing, Jones began juicing in 2011, right before his fight with Quinton "Rampage" Jackson, and the rest is history.
Jones' approach to juicing is the same as mine and others who are serious about health and fitness.
"Juicing just makes sense."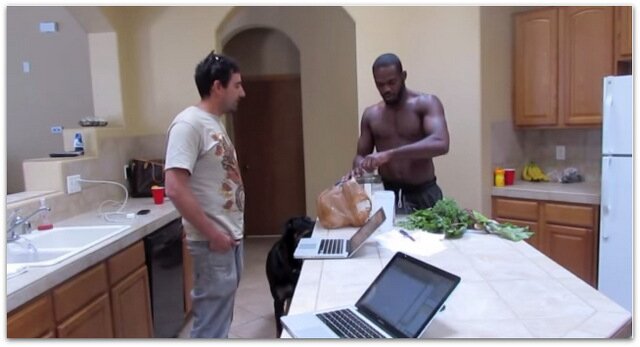 Juicing isn't magical. Juicing isn't part of a fast you go on.
Juicing, in the words of Jones, "just makes sense."
As Jones observes, "I haven't had this much vegetables in one sitting … probably ever in my life."
In this 2011 video, Jon Jones talks about his preparation before his fight with Quinton "Rampage" Jackson.
Although I can't tell what he is exactly using, I've made enough juices to form an educated estimate.
Jon Jones Juice Recipe:
2 whole leaves of Swiss Chard
4 cups of leafy greens such as spinach and baby kale
1 apple
3 small beets
Jon Jones is drinking beet juice, which is proven to enhance athletic performance.
My advice would be for Jones to get a masticating juicer like an Omega. The video is from 2011, however, so maybe Jones has upgrade to a fancier juicer now that he's a world famous athlete.
He is using a centrifugal juicer in this video, and hence isn't getting the maximum amount of nutrients from his produce.
What are some of the benefits of juicing, according to Jon Jones?
In a 2012 interview, Jones discusses the benefits he's received from juicing (transcription via BJPenn.com):
"I juice everyday. Right after practice I come home and my girlfriend has a big glass of vegetable juice waiting for me. It's great. I drink it fresh. It doesn't taste the best, but I look forward to it. I wanted all the nutrition."
Jones goes on to list the benefits he's received from juicing:
I feel great.
My mental acuity is very sharp.
My nails keep growing really fast.
My hair is growing fast. My skin is good.
"Vegetable juice is just so good for your body. My inner body must be very happy I'm do it as well. I poop and it just comes out beet red every day. My body is just filled with nutrition."
Juicing is not a gimmick. It's not for woo-woo weirdos or hippies.
Juicing is for everyone serious about improving his performance in the gym and overall health.
Curious about juicing? Learn everything you need to know about juicing (from juice recipes to choosing the right juicer, to whether juicer is better than blending) in Juice Power.