One of the five most common questions about juicing are cost related. I could answer those questions by sharing that juicing is an investment in your health, and that your health is the most valuable asset you will ever possess. I could tell you about the numerous rich men who wish they could return to their 20s to eat right. I could say that juicing is actually less expensive than Starbucks.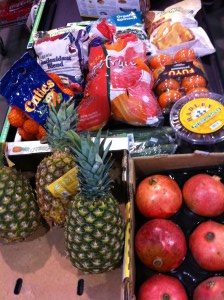 But that would be a bit preachy, wouldn't it? 😉
Instead of reframing the question, I'll answer it in a straightforward way. There are two top ways to save money on juicing.
The #1 (tie) way to save more money on juicing is to shop at Costco.
I live in a very high-cost-of-living area. Yet I was able to buy:
10 pounds of carrots for $4.99.
4 pounds of frozen pineapple for $6.99 a bag. (Thaw the pineapple in the fridge. Juice it once it's thawed.)
An entire pineapple was $2.99. (Peel the pineapple before putting it in your juicer.)
6 huge pomegranates for $12.99. (Read more about the wonders of pom juice.)
3 pounds of organic spinach for $5.99.
3 large English cucumbers (pesticide free) for $3.59).
Costco also had great buys on bananas, dates, grapefruits, clementines, and persimmons.
What happens if you can't juice (or eat) all of your produce in time? Peel the bananas and citrus fruits. Freeze them. Then thaw for a few hours before juicing. (Or, in the case of bananas, throw them frozen into the blender for a Joe Rogan style green smoothie.)
The #1 (tie) way to save more money on juicing is to buy a better juicer.
I explained the economics of juicing in this post about Omega slow juicers. In a word, you save money because of yield. The more juice you can extract from your vegetables and fruits is less money you will spend on produce:
Using kale, we performed a yield test using a Hamilton Beach Big Mouth Juicer, a Breville Juicer, and the Omega J8006. The Omega J8006 yields over twice as much kale juice as the Breville and about 50% more than the Hamilton Beach.

I juice around $15 worth of kale, collards, and other leafy greens each week. With the J8006, I'll get the same amount of green juice from $7.50. That's a 50% [savings].
Read the rest of the post about Omega juicers.
Those are my best tips for saving money while juicing.
What are yours?