Pomegranate juice is extremely healthy and tasty. Pomegranate juice is sweet with a slightly tart bite. Although Pomegranate juice is available widely in stores under the name brand POM, some of us enjoy making our own pomegranate juice.
(Pictured below: Kale Pomegranate Juice.)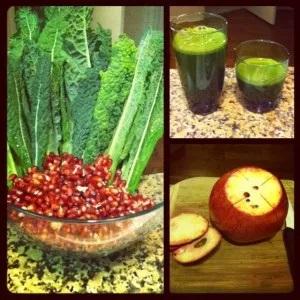 When I said that pomegranate is nature's Viagra, some were skeptical. A recent case history shows that pomegranate is such a potent "male enhancement" juice that washing down a Viagra with a glass my testosterone boosting kale-pomegranate juice can lead to undesired results:
Sildenafil, the active ingredient in the erection enhancer Viagra, is more effective when combined with pomegranate. But sometimes the combination works a little too well, say doctors at the Sri Gokulam Hospitals and Research Institute in Tamil Nadu, India. They describe in Urology Annals cases of three men for whom the combination of Viagra and pomegranate led to an almost permanent erection.

The 46-year-old had taken 50 mg Viagra every other day, which gave him an erection that allowed him to have sex. His erection disappeared almost immediately after orgasm, so an herbalist had advised him to drink 200 ml pomegranate juice every day. As a result of the combination it took a quarter of an hour for his erection to disappear.
Now that you have an – ahem – incentive to juice pomegranate, here's what to do.
How to Open a Pomegranate
Cut the tops off of the pomegranate
Score the pomegranate
Pull the quarters of the pomegranate apart
Separate the seeds from the pith and put the seeds in a bowl
How to Juice a Pomegranate
Since I use an Omega J8006, I throw the pomegranate – seeds and pith – into the juicer. The Omega juicer separates the juice from the pomegranate seeds and spits the pulp and pith out of the other end.
If you use a centrifugal juicer like a Breville or a Hamilton Big Mouth Juice Extractor, you can throw in an entire pomegranate. Just be sure to wash the outside of the pomegranate thoroughly. If you don't like the taste of the red "peel," then take a nice to cut the red peel off and throw in the pith and juice.