In our guide to buying the best juicer for you, we noted that every juicer has its own strengths a weaknesses.
Centrifugal juicers [Hamilton Beach Big Mouth Juice Extractor, Breville, etc.] are extremely fast and do a great job with apples, carrots, beets, celery, cucumber, and other firm fruits and vegetables. They generally offer lower yields from leafy vegetables such as kale, collard greens, spinach, and lettuce and with herbs such as parsley and mint.
To get the most out of your leafy greens, use these tricks:
Roll up your greens. This will make your greens denser and thus less likely to just "spin around" in your juicer.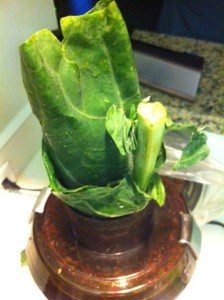 I got about 1.5 ounces of juice from a single collard green. (Collard greens are a superfood on par with kale. We will highlight this underrated green in a later post.)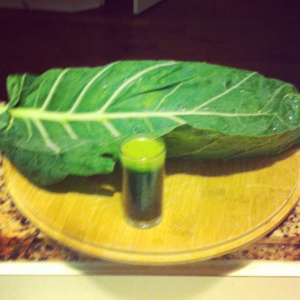 Run your loose greens like spinach (or herbs like parsley) in between apples, carrots, celery, or other hard produce.
For example, one of my favorite juicing recipes is:
Celery Parsley Lemonade
4 stalks celery
1 whole lemon
1 hand full of parsley
1 apple (optional, for sweetness)
"Thread" the parsley through the celery. When the celery goes through the chute, the parsley will juice better because the celery will prevent it from being spun into the pulp bin.
Here is another recipe:
Spinach Apple Carrot Juice
2 carrots
2 cups spinach
1 apple
Cut the apples into halves. Put 1/2 of an apple in the juicer chute. Then throw in a bunch of spinach. Then throw the other 1/2 of the apple on top of it.
The apples will keep the spinach compacted, thus leading to a higher yield.
If you follow the above tips, you will get the most green juice possible.
If you are going to primarily juice leafy greens, consider purchasing another juicer. I explain why in this Juicing Buyer's Guide.