Jack LaLanne began each day with a glass of carrot juice.  (He would make a very basic carrot and apple juice for breakfast.) Considering he lived to be 94 and was jacked and diesel at 71, perhaps his favorite juice is worth some attention.
7 Reasons Carrot Juice is Awesome
Cancer prevention. Many mainstream, conventional, ultra-conversative organizations like the Mayo Clinic and Stanford Cancer Center are advising people undergoing cancer treatment to add more carrots to their diets. Carrot juice is especially effecive against bladder cancer, prostate cancer, colon cancer, and lymphoma.
Protect your heart from heart disease and heart attacks. Carrot juice prevents free radical damage to the heart by increasing antioxidant activity.
It's easy. You don't need a high-end juicer to juice carrots. Read more: How to Buy Your First Juicer; and What is the Best Juicer?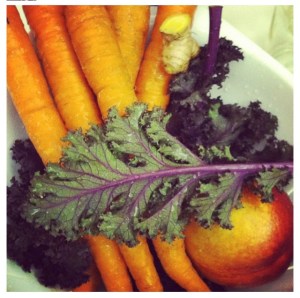 Prevent wrinkles and give your skin an even tone and glow. Carrots are loaded with carotenoids, which give carrots their orange color. The carotenoids in cancer give your skin an even tone and slight glow. Read more: "Juicing For Better Skin and Wrinkles."
Save money. A 10-pound bag of carrots only costs $5.99 at Costco. Most grocery stores sell carrots for around $1 a pound.
Get more bang for your buck. Drinking one cup (or 8 ounces) of carrot juice is equivalent to eating 5 cups of carrots. To make 8 ounces of carrot juice, you need approximately 1 pound of carrots. That's 3-5 carrots, depending on size.
Carrot juice is versatile. You can use carrot juice as the base for your other juices. You can add most anything to carrot juice.
(Pictured below: Juicing carrots, apples, lemons, and broccoli with a Breville Juicer.)
What's your favorite carrot juice recipe?