In our post about getting the most juice out of your leafy greens, I explained that centrifugal juicers often spin herbs like parsley right into the ejection port. Many people are thus discouraged from juicing parsley, mint, and other herbs.
Today I'd like to offer a tip that will have you juicing parsley again. I also have a new recipe that is a variation of the Real V8 Juice.
Compress the parsley in between two stalks of celery. Keep them smashed together like a celery-and-parsley sandwich. This will allow you to get the maximum amount of juice out of your parsley.
Slowly lower the sandwich into the chute: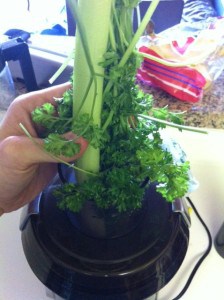 Here's a new recipe. It's a variation of the Real V8 Juice. If you talked to 10 juicers, you'd get 11 recipes for the Real V8 Juice. Each person changes the recipe based on his own tastes. A fancy juice bar in New York adds cayenne pepper and apple cider vinegar (RVF represent!) on its Real V8 Juice.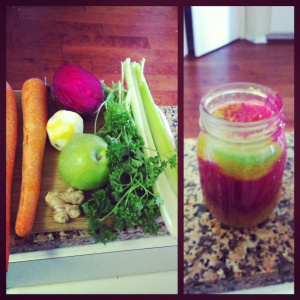 Real V8 Juice
2 carrots
1/2 of a medium-sized beet
1/2 nub ginger
1 green apple
1 lemon (peeled)
2 stalks celery
1 handful parsley
Enjoy!