Nothing beats a tall glass of freshly squeezed orange juice. It's the perfect breakfast drink, afternoon treat, or liquid for blending smoothies. If you're not juicing your own orange juice – this will convince you otherwise!
Why You Should Juice Your Own Oranges
Fresh squeezed orange juice is full of refreshing flavor and loaded with essential nutrients, especially vitamin C. Commercial juices just don't cut it when compared to fresh orange juice, they're expensive, have a bitter taste, and they're often pasturized, meaning delicate nutrients get lost in the process.
Fresh squeezed orange juice is a better alternative. It's loaded with sweet flavor and living nutrients, not to mention that rich orange color.
Juicing oranges is surprisingly easy, and often it's more cost-effective than buying commercial juice. The best part about juicing your own orange juice is that you know exactly what's going into your juice.
If you haven't tried orange juice with other citrus fruits then you're really missing out! I particularly love blending grapefruit or lemon and lime juice in with my orange juice, as this will add tart flavor and character to your juice.
The Best Oranges for Juicing
Not all oranges are the same, and some oranges are better for juicing than others. Here's a quick breakdown on the best oranges for juicing, including pros and how to find the perfect oranges.
Navel Oranges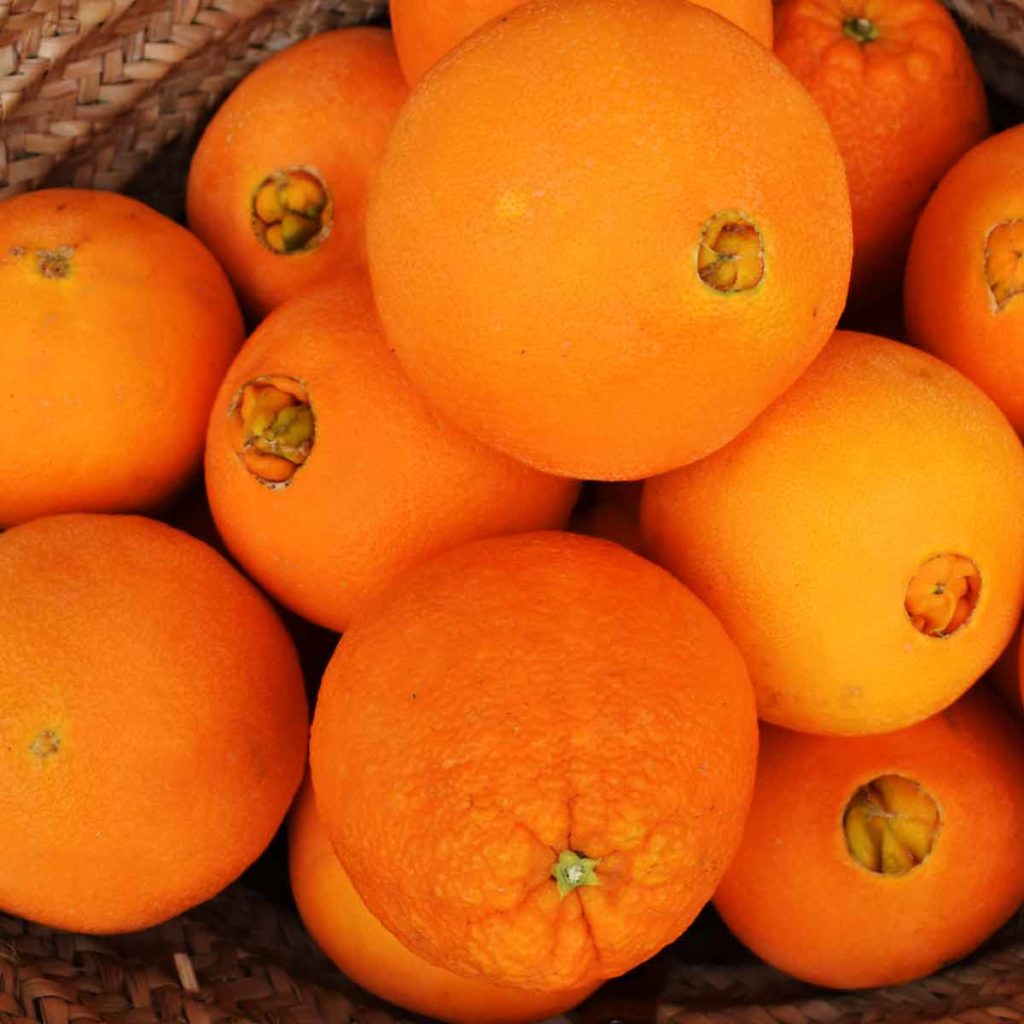 Navel oranges are the most common oranges found in the grocery store, and they're seedless nature makes them perfect juicing oranges. Since they are popular oranges, they tend to be an affordable choice.
Navel oranges also happen to be easy to peel. They're sweet taste and low acid means your juice will have a great flavor.
Blood Oranges
Everyone loves blood oranges, with their gorgeous red flesh and bright sweet flavor. A tall glass of blood orange juice makes for a perfect addition to your breakfast table. That blood red flesh comes from the anthocyanins, also known as antioxidants that are found in red, blue, and purple fruit.
Blood oranges not only look great, but they taste great too. They're less acidic than some other oranges, they're also slightly sweeter and have a flavor similar to strawberries.
Mandarin Oranges
The Mandarin orange is quite a popular orange for juicing – and rightfully so. It's small with loose skin making it easy to peel. Mandarins are also perfectly sweet and less acidic than larger oranges. The Mandarin family is comprised of other oranges you've probably heard of (some of which are on this list) including Clementines, Tangerines, and Satsuma oranges.
The Mandarin orange is one of the more popular choices when it comes to desserts, as it's sweeter than most other types of oranges. It's also a relatively common type of orange, making it an easy and affordable choice.
Clementine Oranges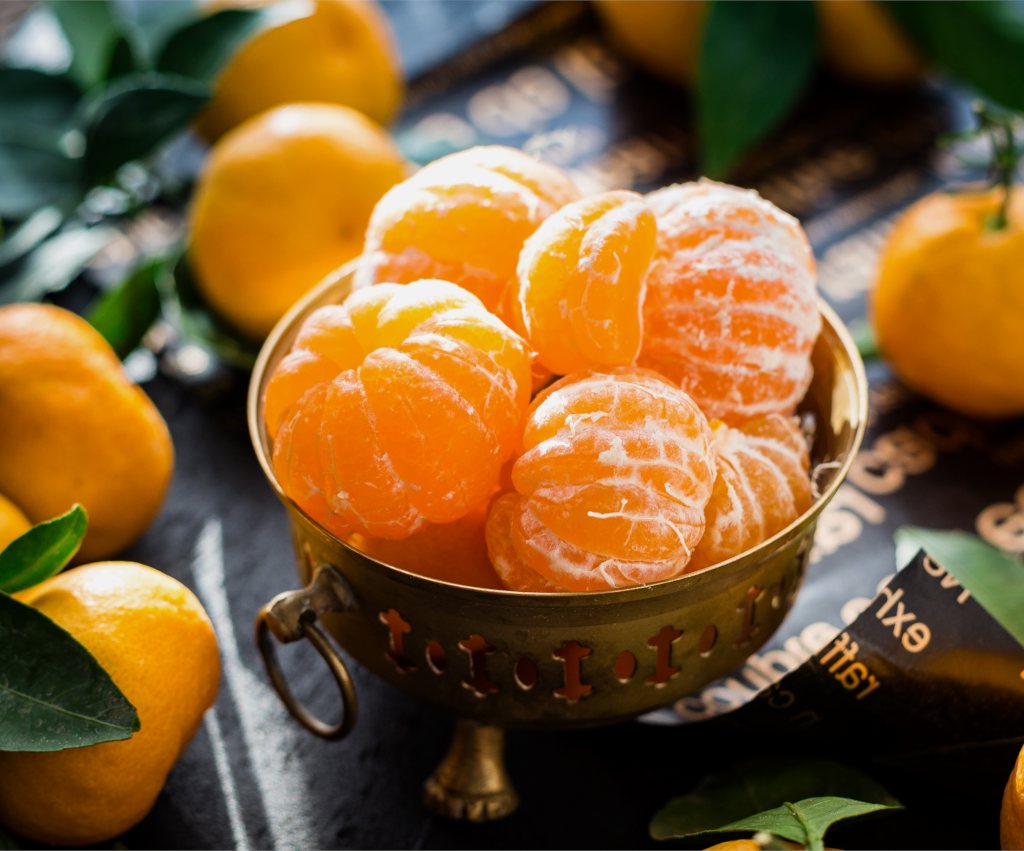 Clementine oranges are small, and you may recognize them from the brand "Cuties." Despite the small size of Clementine oranges, they're great for juicing. Clementine oranges are easy to peel, they're seedless, and they're some of the sweetest oranges you'll find.
Valencia Oranges
The Valencia orange is the perfect orange for juicing. It's super juicy, low acid, and has the perfect sweet and tart flavor that makes for delicious juice. Valencia oranges have very few seeds, making them easier to juice.
Valencia oranges are also very popular and available during the spring and summer months, whereas most oranges are only available closer to the fall and winter months.
Satsuma Oranges
Satsuma oranges are a member of the Mandarin orange family, and you've probably enjoyed them without realizing it. They're the main orange used in canned oranges. Due to their sweet flavor, Satsuma oranges are popular for making marmalade, salad dressing, and as a cocktail ingredient.
Satsuma oranges are readily available during the winter months, and they're perfect for juicing.
Cara Cara Oranges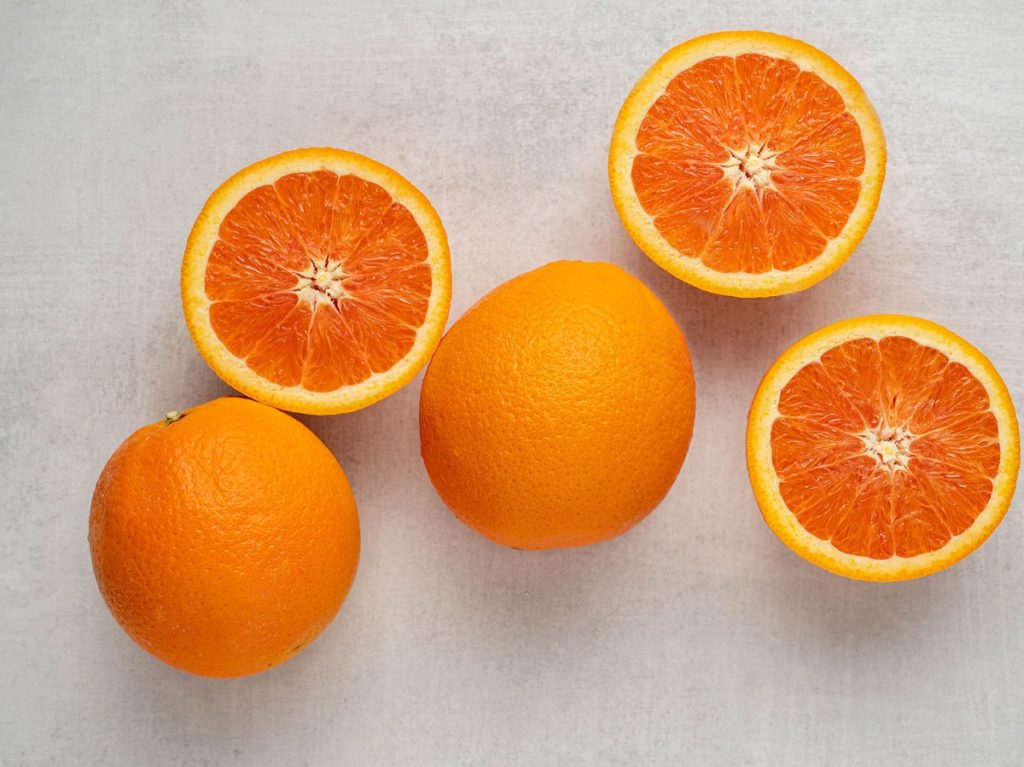 Cara Cara oranges are a type of navel orange that has a pleasant pink-red flesh that looks similar to grapefruit. One great benefit of using Cara Cara oranges for juicing is that they happen to have substantially more vitamin C and vitamin A than most other oranges.
Not only are Cara Cara oranges a healthy orange juice choice, but they are also seedless, making them a great choice for juicing.
Tangelo Oranges
Tangelo oranges are one of the more fun orange varieties for juicing, as they are a cross between a Pomelo and a Tangerine. This means they have a nice sweet and tart flavor that makes for a great glass of freshly squeezed orange juice.
While Tangelo oranges are more rare than other oranges, their unique tart and sweet taste makes them a good choice for orange juice.
A Few Tips for Picking the Best Oranges for Juicing
Regardless of which of oranges you select for your next glass of orange juice, there are a couple good rules of thumb that can help you get the most bang for your buck:
A heavy orange = more water, meaning more juice per orange
Avoid oranges that are green or have soft spots
Oranges should be firm (not spongy) but with some give
Think seasonally, mandarin family oranges and navel oranges are typically available from November-April, whereas valencia oranges are available from April-June
Fresh Versus Frozen Orange Juice
There's something to be said for the convenience of using frozen orange juice, as it can be kept in your freezer to be used at a moments notice. However, there are some downsides to drinking frozen juice over fresh.
For starters, frozen juice loses some of its nutrition during the long process it takes to extract all the water from the oranges to make it concentrated. This process also affects the taste, making the frozen juice less flavorful than fresh juice.
If convenience is a factor, consider making orange juice ice cubes the next time your juicing oranges. This will allow you to enjoy an ice cold glass of orange juice without having to wait for your juice to get cold in the refrigerator.
Health Benefits of Freshly Squeezed Orange Juice
A glass of fresh squeezed orange juice has numerous health benefits, regardless of which variety you choose. All oranges are loaded with vitamin C, vitamin A, fiber, antioxidants, folate, potassium – the list goes on! Here's an estimated nutrition profile for a glass of fresh squeezed orange juice:
Calories: 110
Protein: 2g
Carbohydrates: 26g
Fat: 0g
Sugar: 21g
Vitamin C: 115%
Folate: 15%
Potassium: 10%
Magnesium: 6%
Some oranges have more health benefits than others, for example, Blood oranges and Cava Cava oranges have more antioxidant compounds due to anthocyanins found in their red-pigment.
As for vitamin C, a glass of freshly squeezed orange juice made with navel oranges will provide slightly more vitamin C than other types of orange juice.
Drinking freshly squeezed orange juice has been proven to be beneficial for longterm health. Here are a couple of proven health benefits:
Orange juice decreases the pH of your urine, thereby reducing the chance of kidney stone formation
Lowers bad cholesterol and reduces blood pressure
Acts as an anti-inflammatory, reducing your risk of chronic disease
Antioxidants act to help improve skin health and fight cancer
Can help you lose weight due to it's vitamin c and fiber content
Hand Juicer Versus Machine Juicer
Now that you've decided to drink orange juice to your heart's content – it's time to think about which method you're going to use to make your glass of juice.
You have a couple of options when it comes to deciding how to juice oranges. Here's a breakdown of some pros and cons for each method:
Machine Juicer
This is a type of juicer that you could use to juice anything – including oranges.
Pros: Can be used to juice more than just citrus, meets many price points and comes in many sizes
Cons: Heat produced during juicing can damage delicate vitamins, can be loud, hard to clean
Hand Juicing
The old fashioned way, just you, your hands, and a tool such as a manual citrus juicer, citrus press, or citrus reamer.
Pros: Affordable, many options to choose from, takes up little space, doesn't require power
Cons: Takes longer to juice by hand, doesn't extract as much juice as other methods
Electric Citrus Juicer
The best of both worlds, it plugs in and does the hard work for you while taking up minimal space.
Pros: Affordable, quicker than manually squeezing oranges, takes up less space
Cons: Only useful for citrus, still requires you to manually hold the oranges
Slow Masticating Juicer/Cold Press Juicer
This works like a normal machine juicer, but it slowly presses the fruit without creating too much heat and destroying delicate vitamins.
Pros: Retains more nutrients, can be used on all types of fruit and vegetables, not as loud as machine juicers
Cons: Can be pricey, takes longer than a machine juicer, may not extract as much juice
FAQs
Which type of orange is best for juicing?
It really depends, as most types of oranges can be made into delicious juice. Typically, larger, dense oranges that have a sweet taste and are less tart make for the best juice. This would include navel oranges and/or valencia oranges.
Why does my orange smells sour?
Unfortunately, if your orange smells sour, it has become spoiled and begun to ferment. Avoid soft or bruised oranges when shopping, as these are likely to spoil more quickly.
Why is my orange juice bitter?
Fresh juice may taste bitter due to a compound called limonin. This compound increases in concentration the longer the juice sits. Limonin is particularly high in navel oranges, so don't let your navel orange juice sit for long. Oranges with less limonin include cara cara, valencia oranges, or blood oranges.
Final Thoughts
Nothing beats eating fresh fruit, except perhaps making your own freshly squeezed orange juice. If this hasn't convinced you to try making your own fresh juice at home – then nothing will!
It's an affordable, healthy, and fun choice that tastes way better than anything at the store. If you've never tried making your own juice at home, then give it a try with a cheap manual juicer. If you enjoy (which you definitely will) then invest in an electric juicer – and follow us for epic juicing recipes!