When we purchase apple juice at the grocery store, we typically don't put too much thought into reading the product label. Understanding what sort of apples have been used can also be hard, as store bought apple juice doesn't usually mention the type of apple used. Further, the juice can often be quite sweet and lacking a balanced flavor. Now, that's totally fine if sweet juice is your preferred flavor. But even then, store bought apple juice tends to be from concentrate and is most often packed with unnecessary added sugars. It's simply just not the same experience you would enjoy biting into a perfectly ripe apple.
Let me introduce you to the world of at home juicing!
It's accessible and easy. You have the ability to personalize ingredients, avoid artificial sweeteners and develop your preferred flavor! Do you love gala apples? Go for it! Fan of the illustrious red delicious? Be my guest! Care for classic granny smith apples? Wonderful! The good thing is, most apples (when ripe) work well for juicing. Have fun with it – the world is your apple.
So, let's talk about the best apples for juicing.
What apple varieties should you choose?
Luckily, there are about 2000 to 2500 different apple varieties grown and sold in North America. It's safe to say that you have options. This article discusses some of the more commonly found apples you can find in your local grocery store. Regardless, your decision begins with figuring out what type of flavor profile you enjoy.
Let's categorizes apple juice flavors into three main groups:
Tart flavor

Sweet flavor

Balanced flavor
Apple Recommendations for the Tart and Tangy Crowd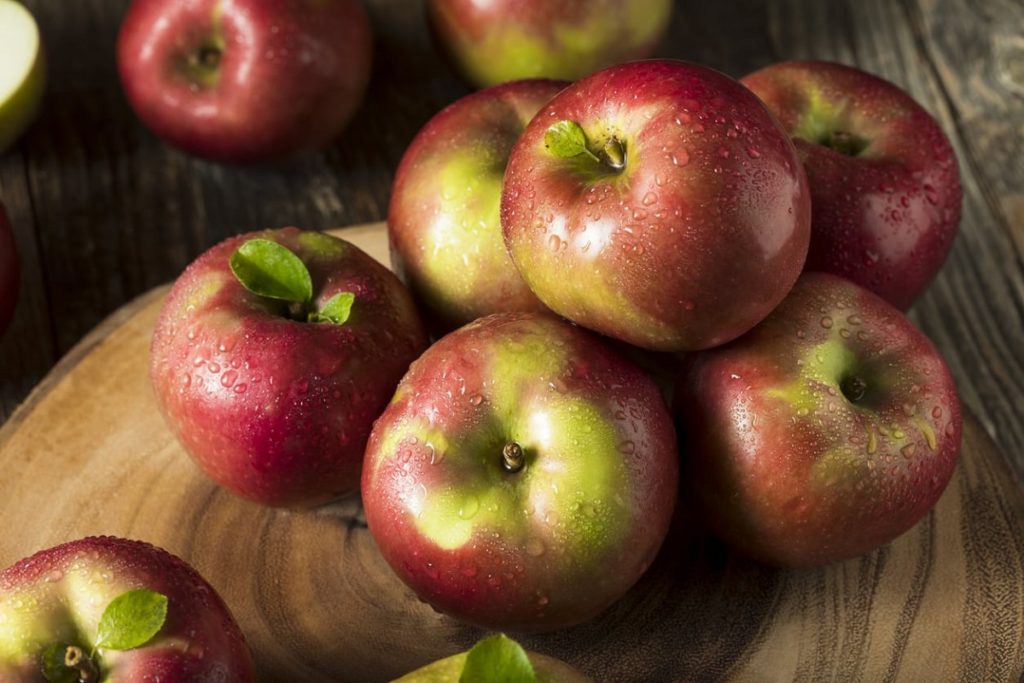 Tart apple juice allows for bold and tangy notes to shine through. One of the benefits of creating a tart apple juice is that you also get to avoid the high sugar content that you typically find with sweeter apples. If you are someone who always finds themselves saying, 'this is too sweet", then tart apples may be the option for you!
Best described as tart, but not overbearing, Braeburn apples have a crisp texture, high juice yield and pleasantly sour taste. Unlike other apples, you do not need to add any honey or spice to Braeburn apple juice. Braeburn's already contain all of the necessary flavor markers on their own. Not to mention, Braeburn's have a long shelf life when stored in cool spaces. Braeburn apples are a great stand alone sour apple for juicing.
You can't talk about tart apple juice without mentioning the Granny Smith apple. There are many different types of green apples, but Granny smith apples are the most known. You either love them or hate them. Granny Smiths work well if you're going for a more extreme, sharp, crisp and even slightly bitter flavor. They store very well in the fridge, but note that after a few days their flavor switches develops a sweeter taste. If you are looking to soften up the Granny Smith flavor, you can always add a little bit of honey or mix in a few sweeter apples.
Honorable mentions: McIntosh apples, Jonathan apples, Empire apples.
Apple Recommendations for the Sweet Tooth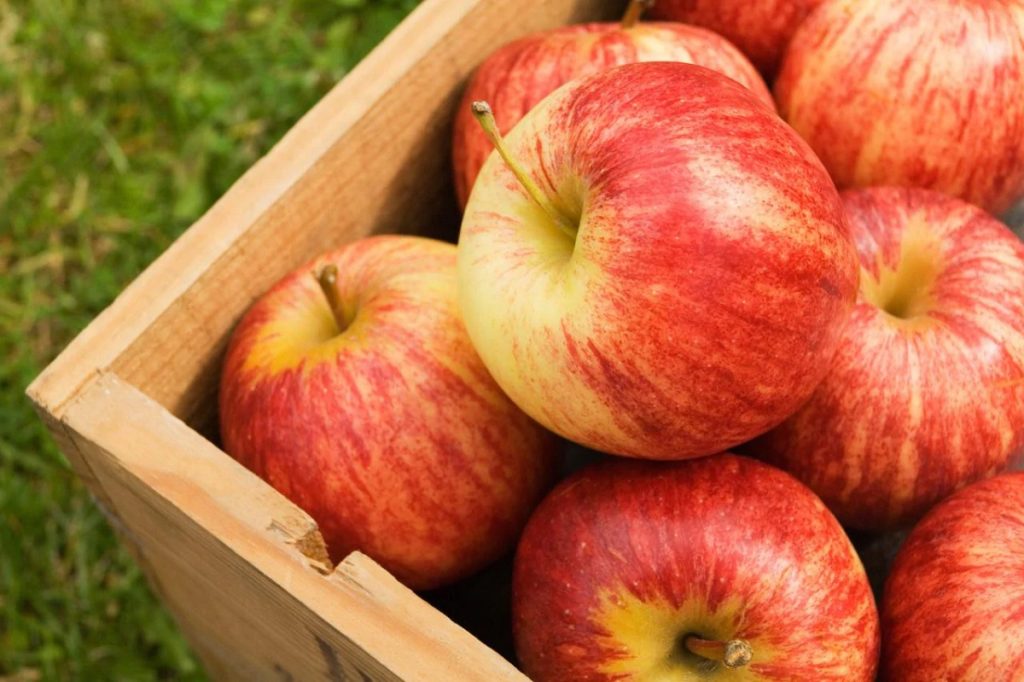 Sweet apple juice is classic, refreshing, sugary, and bright. It can put you in a good mood and add flavor to an otherwise bland meal. If you're someone with a sweet tooth, I'm almost certain this type of apple is for you.
​​Fuji apples can be found year round, at virtually every local grocery store, making them an incredibly accessible choice of apple. Fuji apples have a high juice yield, candy-like flavor and crisp bite. The Fuji apple can be used as a sweetener itself if you are looking to balance out an apple juice that is otherwise a bit tart on its own. All and all, this apple is a great choice for the sweet juice crowd.
The Honeycrisp apple is very similar to the Fuji apple. They both have a high juice yield, sweet taste and can act as sweeteners themselves. However, the Honeycrisp has more of a complex flavor, mixed with notes of honey and syrup. Since the Honeycrisp has such a honey forward flavor, they blend well with a dash of nutmeg or allspice.
Honorable mentions: Kiku apples, Gala apples.
Apple Recommendations for the Well Balanced Folks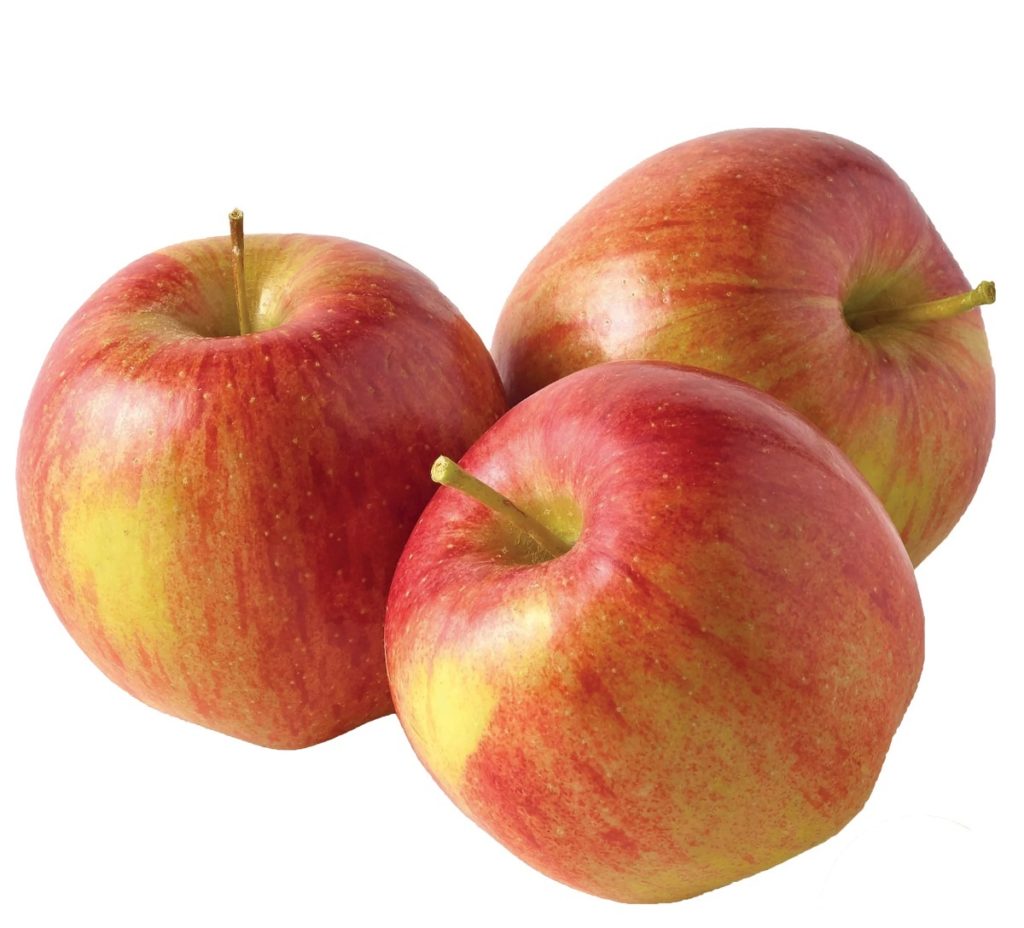 Balanced apple juice is where tart and sweet apple juice blends together. You get a little bit of everything, honey, tang and richness. This option of apple juice is a lot more balanced and thought out. The apples need to be particular and well rounded so that they check all of the boxes. If you are a balanced flavor seeker, this is the option for you!
The Golden Delicious (also known as the Yellow Delicious) apple is a smooth mix of spiced, syrupy and sour. This refreshing flavor is very pronounced and grows more complex with every bite taken. If you find that the Golden Delicious is a little too muted, you could always throw a little bit of ginger in to further spice things up.
Pink Lady apples are a flavorful blend between sweet and sour. They do have a higher than usual acidic flavor, but that tanginess is offset by their high sugar content. Pink lady apples are a bold, but balanced option to try. If you are finding the Pink Lady's a little too tangy, try adding in a teaspoon of honey to balance the taste.
Honorable mentions: Red Delicious apples, Northern Spy apples.
Apple Recommendations for the Nutritionally Conscious
It's fair to say that this isn't a type of flavor preference. I would be remiss if I did not add in an apple option for the folks who make their juicing choices based on the nutritional benefits. If you love apples, enjoy the juicing process and are nutritionally focused – this is the option for you!
The Red Delicious apple is a balanced apple with a subtle sweetness and somewhat muted flavour. Red Delicious apples contain high amounts of the plant-based antioxidant, polyphenol. Polyphenols are shown to reduce inflammation, slow signs of aging, increase HDL cholesterol scores (good cholesterol) and lower blood pressure. Not only do you get a beautiful, deep red colour when juicing the whole apple with its skin on, but you also capture most of the antioxidants and fiber as well.
As mentioned before, the Granny Smith apple is very sour and bold. If you stray from sour flavors typically, you may want to reconsider. Granny Smith's are shown to improve gut health due to their high amount of pectin. Pectin is a type of soluble fiber that works as a prebiotic. Prebiotic's ferment in the large intestine becoming food for our gut bacteria. By incorporating Granny Smith apples in your juicing process, you will be feeding your gut microbiome. This can prevent the large intestine from becoming overrun with 'bad' bacteria. Juice this apple with its skin on to achieve a beautiful light green colour and to optimize your fiber intake.
If you are looking for full nutritional value, try blending these two apple varieties together. This can also help balance out the Granny Smith's flavor.
Honorable mentions: Golden dELICIOUS apples, gala apples
For a More Complex Juice, Try Adding These Ingredients in to Build Flavor
Red beets (will add a bit of earthiness and sweetness, not to mention, a beautiful, deep, ruby red color)
Ginger (will add some extra spice)
Lychee (will add some floral notes along with a candy-like flavor)
Orange peel, lemon peel and lime peel (will add some tangy notes if you're looking for a more flavorful juice)
Cinnamon, anise, cloves, allspice, nutmeg (will add some spice and warmth, great for the fall season)
Vanilla extract or vanilla beans (will add some sweet, smoky and perfumed notes, goes great with a sweet apple juice)
Maple syrup, brown sugar simple syrup, honey, (will help soften an overly sour apple juice and create a more balanced juice)
Hazelnut extract, walnut extract (will add some woody, oaky and nutty notes, goes great with a balanced apple juice)
Now that you have all of the necessary information, it is time to start juicing! Remember, it's all about knowing your desired flavor profile, having fun in the kitchen and finding the best apple for you!