It's safe to say that juicing isn't going anywhere. There are juice bars and stores popping up on every street. More and more people are juicing at home as well and reaping the many different nutritional and lifestyle benefits. So, if you're looking to join the juicing movement, you're probably going to want to start with investing some time and money into choosing a juicer. With so many types of juicers to choose from, it can get a little overwhelming. Who knew that making juice from scratch could be so particular and personalized. Luckily, we've compiled a list of five of the most available and accessible juicers out there to help you on your juicing journey.
What Feature Is Most Important To You When Juicing At Home?
Different types of juicers come with an array of features to choose from and it's important to know what it is that you are looking for in a juicer. Here are just a few important features you might want to think about before purchasing a juicer:
Speed

Quality

Cost

Juice Yield and Food Waste

Sound

Clean Up

Accessibility

Health Benefits

Shelf Life/Sustainability
Types Of Juicers; Including Individual Pros & Cons List
#1 Vertical Masticating Juicers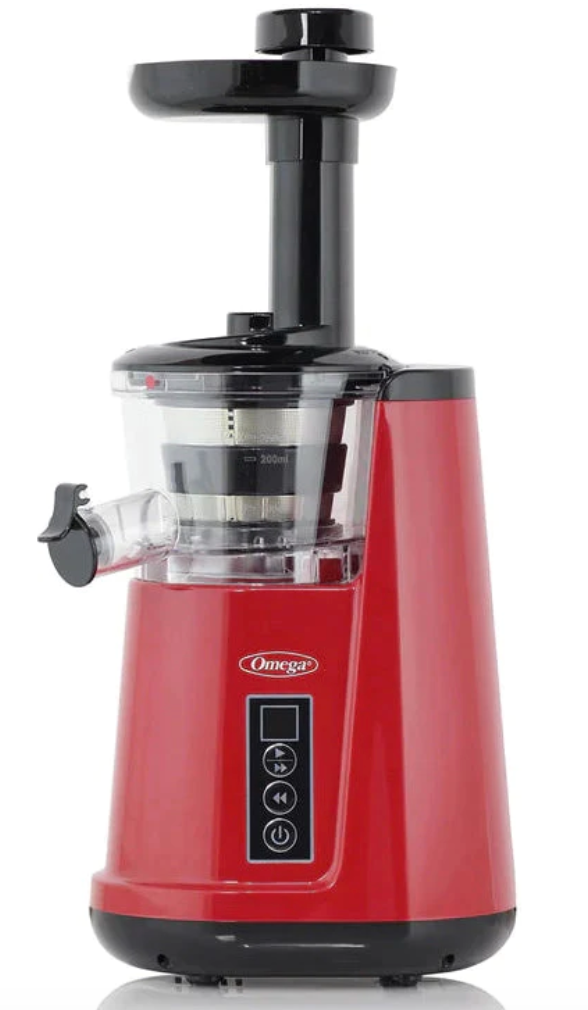 How it works:
Both the vertical and horizontal masticating juicer use a slow release juice method. The main difference is that the vertical masticating juicer has a vertical augar. The auger works as a screw to slowly force the produce against a sharp screen to extract juice.
Pros
More Juice: They have a higher juice yield than their counterpart, the horizontal masticating juice. This is demonstrated in the extremely dry pulp that is produced when using this juicer, a sign that the maximum amount of juice has been extracted from the fruits and vegetables used.

Accessibility: Vertical masticating juicers are quite easy to put together and use. They are basically 'self feeding', meaning, you don't need to use the plunger too often because gravity is on your side!

Low-Cost: Vertical masticating juicers are one of the most affordable juicers on the market.

Easy To Clean: As long as you have that little brush that each masticating juicer comes with to clean the fine mesh screen, then you will have a super easy time cleaning this machine out. Side note, if you don't have the brush, you can always use a dollar store tooth brush.

Hard Fruits: Vertical masticating juicers have an easier time juicing those harder fruits and vegetables.
Cons
Planning Ahead: You will need to make sure that the ingredients are cut into small pieces because vertical masticating juicers tend to jam. This does call for a little bit of a longer prep time.

Quality: Vertical masticating juicers tend to be a little faster than the horizontal version. This is beneficial in regards to speed, but be mindful that faster speeds lead to a lower juice quality.

Sound: They can be a little loud compared to other juicer types.

Health: A lot of the nutrients get lost during the juicing process due to speed and aeration.
Who is this for?
If you are a beginner who's really looking to get started and squeeze the most possible juice out of every recipe, then this juicer is probably best for you!
#2 Horizontal Masticating Juicers
How it works:
As mentioned before, horizontal masticating juicers operate similarly to their vertical counterparts. They both use an auger to extract juice that then goes through the fine mesh screen. The main difference is that horizontal masticating juicers have a horizontal augar that moves at a slower pace.
Pros
Quality: Slow juicers prevent oxidation which leads to high quality juice and less browning.

Versatile: You can make baby food, frozen treats, nut butter and nut milks with this juicer.

Greens: Horizontal masticating juicers work extraordinary well at juicing leafy greens.

Easy To Clean: The clean up is fast and easy! It just requires a little brush to scrub the fine mesh screen.

Accessibility: Easy to use and easy to put together.

Low-Cost: Just like vertical masticating juicers, horizontal juicers are very affordable.

Health: This is certainly one of the best juicers if you are looking to make nutrient dense juice on the regular.
Cons
Speed: The slow juicing method can prove to be an issue if you are in a rush and need your juice produced quickly. However, this is useful if you are trying to avoid oxidation and discoloration.

Less Juice: You do get a lower juice yield than other juicer types.

Soft Fruits: Horizontal masticating juicers do struggle with soft fruits and vegetables, such as berries and cucumbers.
Who is this for?
If you are looking to get a high quality juice while also being on a budget, this might be the best option for you. Beginner friendly as well!
#3 Centrifugal Juicers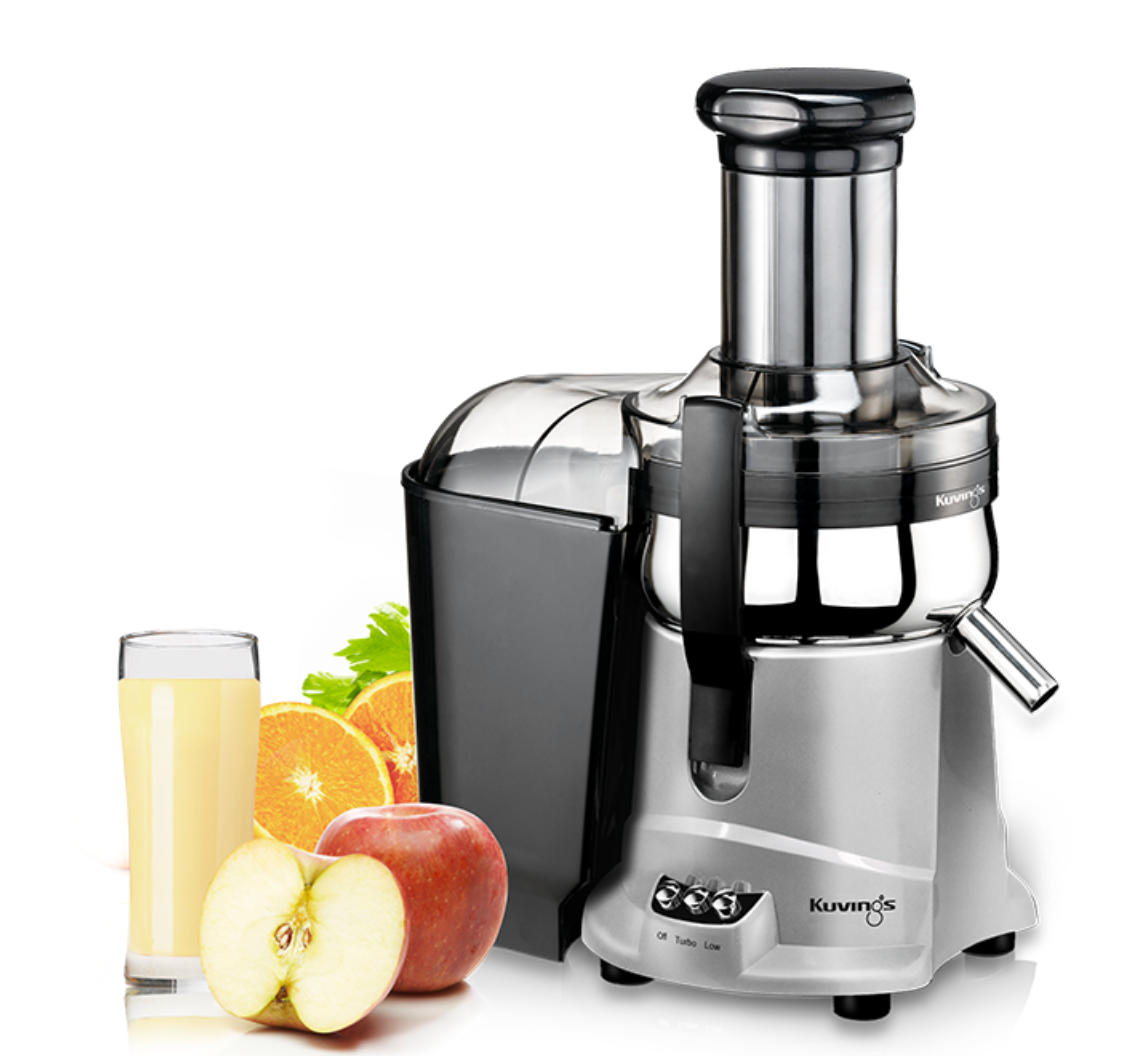 How it works:
The centrifugal juicer got its name from the fact that the appliance uses centrifugal force. Centrifugal juicers work by processing the produce through a fast spinning metal blade at a very high speed. Once they pass through the metal blade, the produce then goes through a sharp screen to produce the desired juice. Even though they are constantly compared, centrifugal and masticating juicers operate very differently.
Pros
Speed: Centrifugal juicers juice at a really fast rate, which comes in handy if you plan on juicing all of the time or you are always on the go.

Accessibility: They are really easy to use and put together. Great for beginners.

Low-Cost: Centrifugal juicers are budget friendly and easy to find in stores.
Cons
Less Juice: You tend to get less juice with centrifugal juicers.

Quality: Since centrifugal juicers work at a fast rate, this allows for more oxygen to get into the juicing process. Oxygen can lead to oxidation and browning, which also shortens the shelf of the juice.

Health: As previously mentioned, the nutrient content gets disrupted with a faster juicing process. Centrifugal juicers generally do not have a high nutrient yield.
Who is this for?
Centrifugal juicers are for those who are always on the run! Maybe you have a large family or just a crazy schedule, regardless, the centrifugal juicer offers quick results.
#4 Cold Juice Press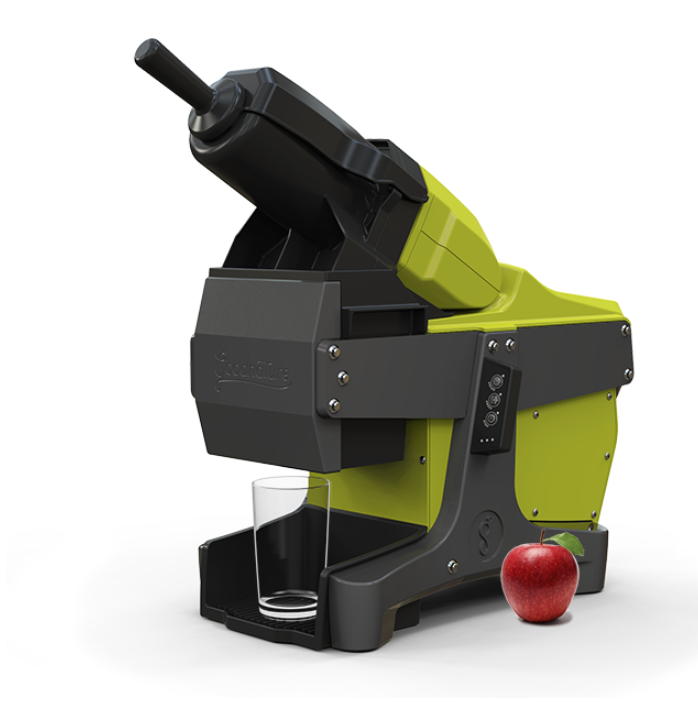 How it works:
The cold juice press works in a two step process. First, the juice press grinds the produce into a thick, pulp-like consistency. Then the produce is pressed slowly with very high pressure to extract the juice.
Pros
Quality/Shelf Life: Cold press juicers leave you with the highest quality and longest lasting juice.

Health: The cold juice press creates the most nutrient rich juice out of all of the other juicers.

Form: You are left with hardly any form when using a cold juice press.

Sound: Cold juice presses run very quietly.
Cons
Pricey: The cold juice press is the most expensive option compared to the other commercial juicers described in this article.

Tricky Clean Up: The clean up can be quite tedious and requires extra time.
Who is this for?
I would recommend the cold press juicer for the juicing experts out there or those looking for a more advanced juicing experience. This machine is expensive, but totally worth it to those who want to enjoy the best possible juicing experience.
#5 Twin Gear Juicer
How it works:
Twin gear juicers work by first feeding produce down a chute like most other juicers. Then twin gear juicers use two counter-rotating augers that crush the produce into tiny pieces. The fresh juice then goes through a shape screen that filters out the unwanted bits and pieces.
Pros
Versatile: Not only can you make juice from fruits and vegetables, but you can also make nut butter, nut milk and puree with twin gear juicers.

More Juice: Since the twin gear juicer has two counter-rotating augers that are extremely high powered, it produces a higher juice yield than all other juicers. This helps when trying to budget as well, because you get the most juice out of your produce with minimal food waste.

Sound: Twin gear juicers are very quiet.

Quality: Just like the horizontal masticating and cold juice press juicers, the twin gear juicer has a slower processing time and results in less oxidization, leaving you with a high juice quality.

Health: Create a highly nutrient dense fresh juice.
Cons
Harder To Find: Twin gear juicers are not as common as other juicers, with only a few manufacturers producing them. This could make them a little trickier to find than other juicers.

Pricey: Twin gear juicers tend to be a bit more expensive than other types of juicers.

Tricky Clean Up: There are a lot of little nooks and crannies that need to get soaked and cleaned, so expect to spend some time cleaning after.
Who is this for?
I would recommend this juicer for the hard core juice enthusiasts. The type that doesn't mind giving this machine the care it needs.
Notable Mentions:
Manual Juicers:
Alright, I can't mention juicers without throwing in the old school, slow and steady manual juicer. Unlike the other electric juicers described in this article, this juicer is not for the faint of heart and requires physical labor. Manual juicers work really well with citrus fruits and soft fruits. If you are looking to take up juicing on a regular basis, I wouldn't suggest going with the manual juicer because it takes the most time and energy. If you are only looking to make simple fruit juice, like orange juice or lemon juice on occasion, then this might be the right juicer for you.
Conclusion
All commercial juicers come with their own features and benefits and that can get tricky to comb through. It's all about knowing what you want. Whether you prefer a fast juicer or a juicer that can produce high quality juice. It's all up to you – so feel free to get picky when selecting your very own juicer.
And remember, there is no one 'best juicer' out there, but there is a juicer out there that will work best for you! Happy hunting.