Philips Viva Collection Juicer HR1832/00 is a compact, easy to use budget centrifugal juicer that provides high yields.
Pros:
If you are looking for an affordable juicer that gets the job done, this is the choice for you. The Philips Viva Collection HR1832 has a unique and intuitive design. It is smaller than most of the juicers and the stability of it is surprising. This juicer has only one speed, but it is optimal for most of produce. Added juicing jug, drip stop, easy cleaning and really high yields, for the cost of less than $100.
Cons:
Philips HR1832 Juicer has its cons too. Feeding chute is a bit too narrow, thus produce needs to be chopped before juicing. It may leave a few fruit and vegetable pieces in the juice, so straining may be necessary. If using too low jug for juicing, you may end up slashing juice on the surface. This could be avoided by laying a tea towel beneath the jug or raising the jug a bit.
Overall, this seems to be a compelling option for both people on a budget and people who are new to the world of juicing.
Philips Viva Collection Juicer HR1832/00 review: Price and availability
If you are an American buyer, Philips Juicer HR1832/00 costs $140 at the official Philips online store . Having said that, at other online stores such as Tradeinn, Thebeastshops, Ebay or Grooves-inc.com, the price fluctuates from $55 to $105. It is also available in moss green or even red, but these models are rare to find. The only ones I was able to find were used models on Ebay.
Philips Viva Collection HR1832 Review: Design
Philips Viva Collection Juicer is a centrifugal juicer. It can make around 1L of juice in one go (depending on the produce) without needing to empty the pulp container, which is located around the central extraction chamber. In order to disassemble the juicer, you need to grab the side locks by the bottom and pop them loose, take off the top, pop out the blades, and then you can take out the pulp container.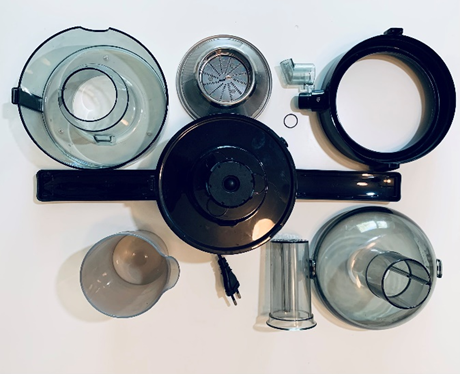 Assembly and disassembly is really intuitive and easy, thus the cleaning is really easy too. What's more, this juicer compared to other juicers is quite compact and light: weights only 2 kg and dimensions are 21 x 24 x 31 cm (US – 8.3 x 9.5 x 12 inches). For example, Hamilton Beach Big Mouth ($70) is 4.3 kg 14.5 x 10.8 x 7.8 inches, so Philips juicer is going to nicely fit on the kitchen counter top or in the cupboard. All parts are plastic – ink black, dark transparent, and sidebars are matte black. The blades are in one piece with the sieve and safely located, so there is a small chance of cutting yourself.
The package includes a 500ml juice jug. Philips Juicer has 4 strong suction legs, which even after 2 years of use are still perfectly functioning and keeping the juicer stable. This juicer has a quite narrow (5 cm, 2 inches) feed chute, so fruits and vegetables need to be chopped before juicing. The power switch is black and positioned just a bit off the front of the juicer for easy access. The cord is only 80 cm long, so this might be a problem, if the power socket is further.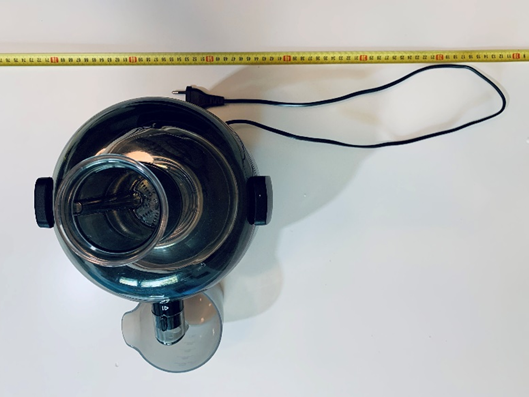 ---
Philips Viva Collection HR1832 Review: Juicing performance
In order to test its performance, a small research was carried out. Soft, hard and leafy produce were juiced and results were measured.
Soft produce:
It was found that soft produce like pears and apples resulted in around 60% yield. The juice from pears was more like a purée consistency with a few pieces of fruit. I noticed that Philips Viva Collection Juicer from time to time does have this issue, so you may want to strain juice through a sieve. When juicing apples, juice turned out well, no pieces and a nice froth.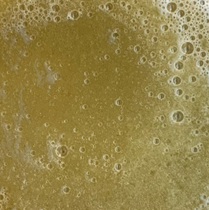 Celery amazed me the most having 88% yield, grapes, tomatoes and cucumbers had around 70% yield which is good too. Previously mentioned, Hamilton Beach Big Mouth Juice Extractor produced a lower – 70% yield when juicing celery. When juicing oranges the yield was 48%, this is somewhat okay, but not ideal. What's more, I advise you peel citrus fruits, otherwise the skins of the fruit give an unpleasant bitter taste.
Overall, it performs really well keeping in mind its cost. Also, It is not too loud compared to other centrifugal juicers. Finally, I cannot stress that enough, the stability of this juicer is amazing. Once you put it somewhere, it will not move anywhere thanks to the suction legs.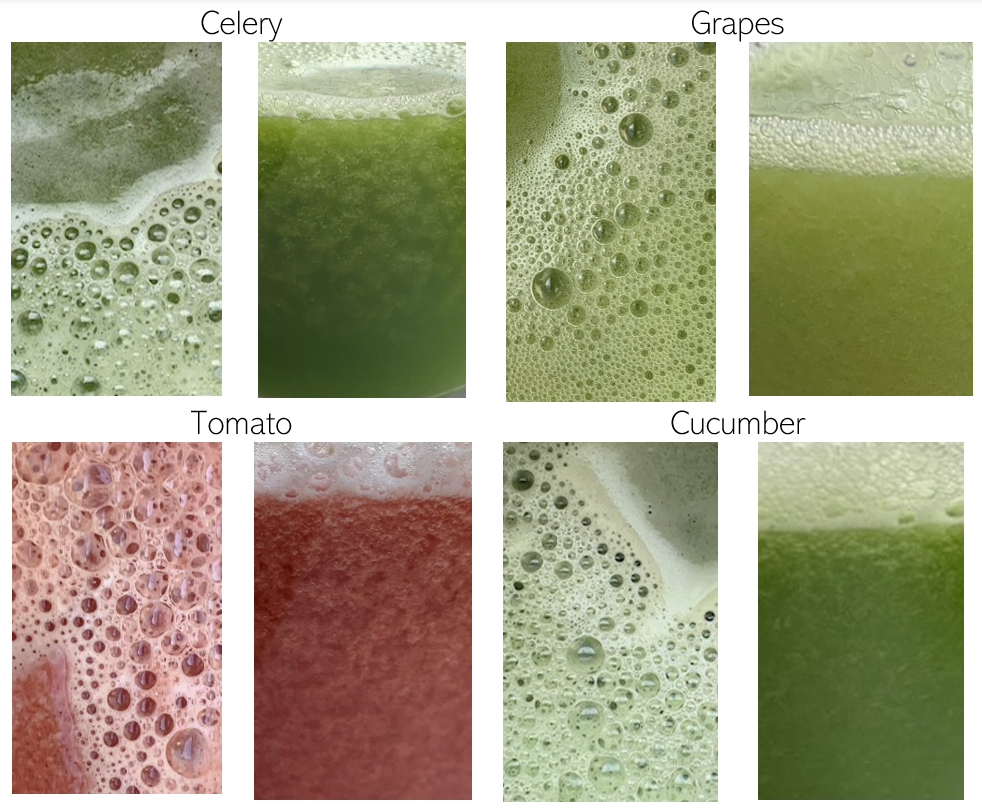 Hard produce:
It was found that hard produce like ginger, carrots resulted in around 50% yield. There seem to be no problems grating harder vegetables. Here, this juicer performed really similarly compared to Hamilton Beach Big Mouth Juice Extractor.
Leafy produce:
This category seemed to be most difficult for this particular juicer, not only I had to push quite hard in order to juice those greens, but also the yield was not great. Of course, in the end I still managed to juice such produce and I had really nice and dark green juices. Kale resulted in 38% yield and 50% for Spinach.

Below there is a table attached with examples of yields from both of these juicers, keep in mind that the fruits used for this comparison were different, but a trend can be seen, that both of the juicers perform similarly, except for juicing leafy vegetables, Philips Viva Collection Juicer HR1832/00 performed just okay in this category.
Overall, juices tasted fresh, with minimal froth. What's more, throughout 2 years of using this juicer it always managed to juice produce and never overheated. I would say this is a excellent performance for a budget juicer.
Philips Viva Collection HR1832 Review: Ease of use and cleaning
Using this juicer is really straightforward, and thanks to the suction legs, it is really stable. One thing to keep in mind is the size of your fruits and vegetables, the feeder tube is only 5 cm wide, so you have to make sure that the chunks are not too big, otherwise you will have hard time getting them out.
Once you have your vegetables and fruits prepared, you can start juicing. There is only one speed, but it is universal. No problem juicing apples, carrots. When juicing kale, you need to push the feeding tube a bit harder.
The optimal height of the glass for this juicer I would say is 13 cm, if the glass is higher it will not fit under the faucet, if it is lower, the juice might splash outside the glass and end up making a mess. The provided juicer jug is below 12 cm, thus if you do not put it on some higher platform, juice once again will splash on the counter top.
Another problem that can sometimes happen is when feeding the tube with fruits and vegetables, some bits and pieces might fly out from the feeding chute and this makes a bit of a mess.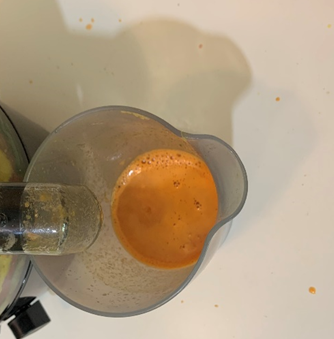 Once the pulp storage fills, you have to disassemble the whole juicer, which might be a bit annoying, especially when juicing larger amounts of produce. Because of this, I would say it is optimal for juicing smaller amounts of juice. It's really nice that there is a drip stop as you can turn it up and the juice will not spill on the surfaces.

Cleaning Philips Juicer is as simple as it gets – just disassemble the juicer and either wash all removable parts by hand or in the dishwasher (all parts are dishwasher safe). Round shapes and smooth surfaces facilitate easy rinsing under the tap.
Pro-tip, clean the juicer right after you finish juicing, otherwise it may be harder to properly clean everything. Also, if you are juicing produce that contains carotenoids (especially carrots), blades may put on yellowish color, but with a bit of scrubbing it comes off.
Should You Buy Philips Viva Collection HR1832 Juicer?
In the review I have compared it from time to time with the Hamilton Beach Big Mouth Juice Extractor, they both perform similarly, and the price is similar too. One thing that Philips Viva Collection Juicer HR1832/00 has advantage at is the small size of it and unique design, which I like. Also, it is really stable. Of course, when it comes to juicing leafy greens, it is not perfect, but otherwise it performs really well and has high yields. There may be some splashing action, and you might end up with a couple of fruit pieces in your juice, but once you know how to deal with it (a higher juicing jug, straining juice etc.) it is not a big problem. Overall, I would say that for this price, it is a fantastic choice.