Nowadays, there are so many different types of recipes, diets and trends out there that require you to use both juicers and blenders. However, it can be confusing trying to figure out if you should purchase a juicer, a blender or perhaps both.
So let's compare juicers and blenders. What are the benefits of each and what are some of the key differences? Which one should you be reaching for when making creamy smoothies? Which one of these appliances is best for frozen drinks or processing whole fruits and vegetables? Let's find out together.
When comparing a juicer and a blender, we first have to look at their common elements. Both of these kitchen appliances offer efficient ways to process fruits and vegetables without having to cook them. Both juicers and blenders provide their own unique textures, health benefits and purpose. Similarities aside, they differ in regards to what types of produce and ingredients they process effectively, the types of nutrients that are maintained and their overall final yield.
When MAKING YOUR DETERMINATION, think about which appliance would WORK BEST WITH YOUR DAY TO DAY
First, let's talk juicers.
What Is A Juicer?
A juicer is a kitchen appliance that works by extracting juice contained within the fiber of both fruits and vegetables. Juicers separate and discard the pulp and fibrous content so that you are left with only the juice.
There are many different types of juicers on the market that differ in speed, price and juice quality. The three most common and accessible juicers options are as follows:
Masticating Juicer
Don't be spooked by its scary name, masticating juicers are a slow release juicer that come in both vertical and horizontal options. Both types of masticating juicers use a screw to slowly force the produce against a sharp screen to extract juice. Vertical masticating juicers tend to work a little faster, but have a lower nutrient yield than horizontal juicers.
Masticating juicers are an affordable and easy option if you are just starting out in your culinary journey.
Centrifugal Juicer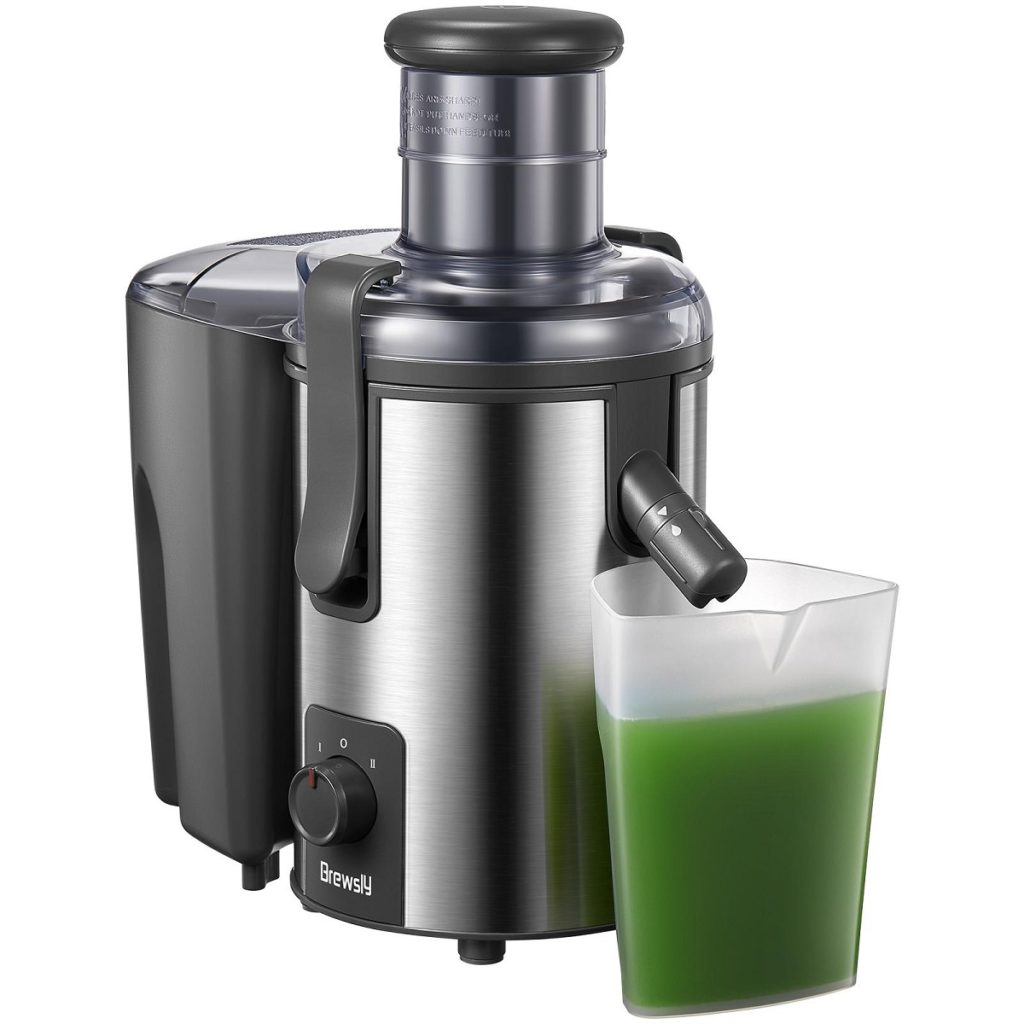 The centrifugal juicer got its name due to the fact that the appliance uses centrifugal force. Centrifugal juicers work by processing the produce through a fast spinning metal blade at very high speeds. Once they pass through the metal blade, the produce then goes through a sharp screen to produce the desired juice.
Centrifugal juicers do not have the highest nutritional content, best quality or juice yield out of the other common juicers, however, they are very cost effective and quick to use for those on the go.
Juice Press (Cold Press Juicer)
The juice press works in a two step process. First, the juice press grinds the produce into a thick, pulp-like consistency. Then the produce is pressed slowly with very high pressure to extract the juice.
Cold press juicers leave you with the highest quality and longest lasting juice out of the three listed types of juicers. However, this is the most expensive type of juicer.
Juicing Benefits
There's a reason why you always hear people talking about juicing! It's good for you and a great way to avoid processed juices. Here are just a few of the benefits of juicing:
Juicing pulls and concentrates all of the fruits and vegetables micronutrients. Micronutrients are vitamins and minerals that the body only needs a small amount of, some examples include iron, zinc, magnesium and vitamin c.

Juicing is a great way to remove unwanted artificial flavors and processed sweeteners.

Since the pulp and fibrous material is extracted from the produce during the juicing process, the juice is then easier to digest and can reduce unwanted bloating and abdominal pain.

Juicing is a great option if you want to receive essential nutrients from fruits and vegetables, but don't like the thick consistency of smoothies.
What Is A Blender?
A blender is a kitchen appliance that mixes, crushes and blends ingredients together using fast spinning, sharp blades.
There are three different types of blenders commonly found in stores:
Personal Blenders
Personal blenders are single serving blenders. They blend using the same technique as countertop blenders, but don't offer as many functions or speeds. They also usually come with beverage lids on top so you can take them with you as a to go cup.
Personal blenders are a great option for those who live alone, make meals for one or are always on the go.
Countertop Blenders
Countertop blenders are the most accessible, versatile and recognizable blenders out on the market. They are high powered blenders that can incorporate about 4 to 6 cups of liquids at a time. Certain specialty blenders come with multiple speeds and functions, functions that can work as food processors, crush ice and even chop harder ingredients.
Countertop blenders work best for families, ones who make medium to large portions and those who like the option to use multiple speeds and functions.
Immersion Blenders
Immersion blenders (hand blenders) are hand operated blenders that blend directly into a pot, bowl or container. These blenders work best when ingredients are soft or cooked. They do not have a lot of functions or high strength. Immersion blenders are ideal if you are doing large batches of hot soups, purees or pestos.
Blender Benefits
Blenders are versatile and used for both savory meals and beverages. Here are just some reasons why using a blender is beneficial:
Juicing discards the fruit and vegetable's fibrous pulp while blenders use the whole fruit and vegetable. Therefore, blenders lead to less food waste.

Since blended beverages do not discard the fiber, this can be used as a tactic when trying to lose weight. This is because when you increase your fiber intake you are left feeling more full. This can help with excessive snacking or cravings.

Blended smoothies that are high in fiber can also help with gut health. Fiber feeds the gut bacteria in our large intestines. Increased fiber has several health benefits including improving blood sugar control, reducing the chance of leaky gut syndrome and treating constipation.

Generally, a blender gives you plenty of options and is quite versatile. You can make blended smoothies, slush drinks, purees, dressings, pestos and soups.
Which Ingredients Work For Each Appliance?
Juicers and blenders cannot process all of the same ingredients. In fact, they are not meant to. While blenders require both solids and liquid to mix well, juicers do not need added liquids to produce juice.
The below is a little list of common ingredients we've put together that work best in each appliance, together with some 'crossover ingredients' (being ingredients that work well in both blenders and juicers).
What belongs in your blender?
Nut butters and fruit pastes

Milks (ex. dairy, nut or lactose free)

Powder (protein powders or spices)

Seeds (ex. hemps, chia seeds)

Extracts and oils (ex. olive oil, vanilla extract)

Broths (ex. vegetable broth when blending soups)

Cooked vegetables (ex. roasted squash, roasted carrots, boiled potatoes)

Fresh soft fruits (ex. mangos, raspberries, strawberries, avocados and more)

Frozen fruits and vegetables

Ice
Crossover Ingredients
Leafy greens (ex. kale)

Nuts (ex. almonds)

Medium firm fruits (ex. pineapple)

Softer fruits and vegetables typically work better in blenders but can work in certain juicers as well

Harder fruits and vegetables typically work better in juicers but can work in certain speciality high powered blenders as well
What belongs in your juicer?
Raw root vegetables (ex. beets, carrots etc.)

Raw hard fruits (ex. apples, pears etc.)

Stalk vegetables (ex. celery, fennel etc.)
Juicer Vs Blender: Final Thoughts
To sum things up, it really comes down to your texture preferences, preferred ingredients and plans for your everyday meals and lifestyle. Review the ingredients above and really think about which ingredients you enjoy most often or want to enjoy more of.
If you are someone who loves a glass of nutrition packed juice with root and stalk vegetables, then you most likely want to pick up a juicer. If you can't afford to have any food waste or want to have a high fiber diet, or maybe you just love the consistency of smoothies, then blenders are the right choice for you.
Can't decide which one of these great kitchen appliances is right for you and want to have the benefits and versatility of both? Why not grab one of each! Ultimately, having both a blender and a juicer at your disposal is certainly the best way to mix it up and deliver the most nutrients possible in your diet. Of course, for those looking to run a tight budget, keep in mind that picking up both a blender and a juicer might set you back more than just picking one!
Regardless of your choice, you can't go wrong with either of these wonderful kitchen appliances! They both have incredible health benefits and functions. Incorporating either is a great start to a healthier and more creative culinary lifestyle!